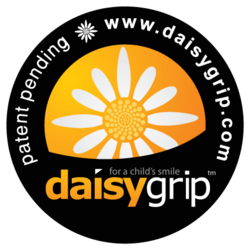 If you put a toy in the DaisyGrip™ and then put the DaisyGrip™ on top of your camera, you're most likely going to get a good laugh and smile from the child that you are photographing.
Bergen County, NJ (PRWEB) November 22, 2011
A brand new startup business, DaisyGrip LLC is set to open their doors on Small Business Saturday with the launch of their featured product: the DaisyGrip™. Designed to get a child to smile and laugh while looking at the camera, the DaisyGrip™ will quickly become an indespensible tool for child photographers and shutterbug parents.
The DaisyGrip™ was created by the owners of a custom child portrait studio in New Jersey. "The DaisyGrip™ is basically an arm with an ultra-flexible hand that can 'grip' a wide variety of items, and hold the item right above your camera lens," says Christine DeSavino of Christine DeSavino Photography. "If you put a toy in the DaisyGrip™ and then put the DaisyGrip™ on top of your camera, you're most likely going to get a good laugh and smile from the child that you are photographing."
To celebrate the launch of their own new small business, and to reward other small businesses and small business shoppers, Christine and her business partner, David Harges, have created the DaisyGrip™ Challenge. "The challenge is simple," says David. "Just take a guess on a few simple questions about the DaisyGrip™, if you're right, you'll be entered into a drawing. We're giving away a few free DaisyGrips™ along with gift certificates to some of our favorite small businesses from across the nation. It's a win-win-win situation for the small guy."
To take part in the contest just head over to the DaisyGrip™ Facebook page and submit your answers.
For further information on how the DasiyGrip came to be, please take a look at their previous press release announcing the DaisyGrip™: Every Child Photographer's New Best Friend, the DaisyGrip™ is Coming Soon.
Company Info:
DaisyGrip, LLC - For a Child's Smile - was recently formed by Christine DeSavino and David Harges, a husband and wife team, and owners of Christine DeSavino Photography. As an offshoot to their children's portraiture business, Christine and David formed this new business to sell and promote the DaisyGrip™, a brand new tool which they designed specifically to help photographers overcome one of the toughest obstacles when photographing a child - capturing that perfect smile and natural giggle.
Christine DeSavino Photography, LLC - a NJ based children's portrait studio - was started in 2007 and has quickly become a premiere custom photography service in northern NJ & the NYC metro area. Specializing in the fine art of children's portrait photography, Christine focuses on the child, capturing the beauty and innocence of each stage in the child's journey. From the expecting mother to the newborn infant, from the precious baby to the determined toddler, from the curious child to the confident teen, her photography captures the unique qualities that children embody.
About Christine DeSavino:
Christine's passion for photography began while she was traveling Europe. Visually, she was awe-struck and wanted to be sure to remember it all, but from her own point of view. As a result, she spent three wonderful years in Barcelona studying photography.
She met her husband years later in New York, where they were both working in the film industry. After having kids, Christine couldn't be away from them for a typical 12 hour film day. She wanted to raise her children yet continue her career. Children's portrait photography was a natural progression.
"I had no idea how much love I had inside of me, until I had my children," says Christine. "It's what I try to capture in my portraits - a love and reverence for this special stage of life called childhood. Starting a family is such an incredible time of life and I am thrilled every time I have the privilege of documenting it for someone - from the joy of holding your newborn, to the endearing preschool ages, to the we-can-rule-the-world attitude of pre-teens. It's all so amazing and passes by in a blink. I think it's important to have it documented so you can look back and never forget."
About David Harges:
Prior to his collaboration with Christine, David Harges moved to New York City in 1997 and worked his way up through the ranks of the NYC independent film world. For the next 12 years he worked on numerous feature films as a gaffer and cinematographer. In 2006 he culminated his gaffing career by traveling the country lighting Sean Penn's award winning feature "Into The Wild." In pursuit of cinematography, David shot his first feature film "Cielito Lindo" in Chihuahua, Mexico, and then shot the award winning documentary "Heart of Stone" in 2009. Recently, he took a leave from the film business to strengthen his wife's photography business, spend more time with his children, and pursue the creation of the DaisyGrip™.
Some of David's notable film credits include: "The Hawk is Dying," "Dummy," and "A Guide to Recognizing Your Saints." He currently resides in the New York City area with his wife Christine, their two beautiful sons with whom he couldn't be more enamored and proud, and an incredibly intelligent Border Collie named Izzy.
Company Contact:
DaisyGrip - For a Child's Smile, For a Photographer's Camera
Founded 2011 by the owners of NJ Child Portrait Studio, Christine DeSavino Photography
www(dot)daisygrip(dot)com
david(at)daisygrip(dot)com
Christine DeSavino Photography - Fine Art Children's Portraiture - NYC, NJ & LBI
Christine DeSavino - Photographer & Owner
David Harges - Business Manager & Owner
www(dot)christinedesavino(dot)com
chris(at)christinedesavino(dot)com
###