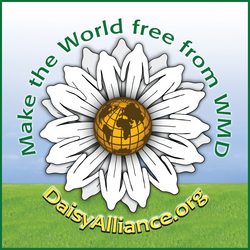 "Many of us do not realize that the danger of nuclear annihilation did not diminish with the end of the Cold War," said Bruce A. Roth, Executive Director of Daisy Alliance
Atlanta, GA (PRWEB) July 30, 2010
Daisy Alliance will host a screening of Countdown to Zero at the Midtown Art Cinema, July 31 at 7:00pm, followed by a discussion with Holly Lindamood, Daisy Alliance Program Director for Nonproliferation and Disarmament. The Ploughshares Fund is co-sponsoring the event.
Countdown to Zero spotlights the serious threat that nuclear weapons pose to international security by focusing on the inherent danger of nuclear terrorism and the risk of accidental nuclear detonation. "This documentary is a valuable contribution to raising public awareness about the threat nuclear weapons pose to global peace and security. Many of us do not realize that the danger of nuclear annihilation did not diminish with the end of the Cold War," said Bruce A. Roth, Executive Director of Daisy Alliance and author of the book, No Time to Kill.
Countdown to Zero was produced by Academy Award winner Lawrence Bender (Inglourious Basterds, An Inconvenient Truth) and written and directed by Lucy Walker (Devil's Playground, Blindsight).
ABOUT DAISY ALLIANCE
Daisy Alliance was founded by Bruce A. Roth in 2006 as a nonpartisan grassroots peace organization. It works to improve global peace and security by reducing the threat or use of weapons of mass destruction (WMD) and by promoting the rule of international law. Daisy Alliance raises funds from the sale of its products—lapel pins, pendants, and the book, No Time To Kill—in order to educate the public about the devastation nuclear, biological, and chemical weapons are capable of inflicting and the threat they pose to civilization. No Time To Kill is a holistic guide to WMD, terrorism, and genocide, written for the layperson and scholar alike. More than just discussing these problems, it presents a reasonable solution to make the planet safer—an approach never tried before. The Daisy Alliance logo symbolizes the globe at its center and its petals represent people of the world. The inspiration for the name Daisy Alliance came from the 1964 Lyndon B. Johnson presidential television campaign ad.
###