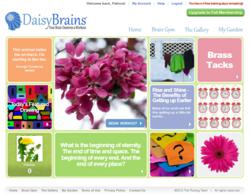 Exercising your brain is a critical part of building a healthy lifestyle.
Richmond, Virginia (PRWEB) May 09, 2012
Questions still exist as to what causes Alzheimer's disease, but researchers are certain about one thing: Women are being diagnosed with Alzheimer's at greater rates than men. According to the 2011 Alzheimer's disease Facts and Figures report, released by the Alzheimer's Association, over 3.4 million out of 5.4 million individuals with Alzheimer's are women.
The team at DaisyBrains.com is on a mission to underscore the importance of adding brain exercises to the workout routine of women. "When sources like the New England Journal of Medicine are finding that people who keep their minds' active are less likely to develop dementia, I pay attention," says Anne Pearce, a retired school teacher and Daisy Brains member.
Daisy Brains co-creator, Claire Herring agrees, "Exercising your brain is a critical part of building a healthy lifestyle. And if brain exercises and brain games aren't engaging and fun, people won't stick with them. We believe that our ever-changing brain exercises are one important way to keep your brain at peak performance; eating right and physical exercise is also important to overall brain health."
Since its launch in February 2012, Daisy Brains has seen a steady increase in new female members. Clinically-designed brain training games are created to provide exercises across the key cognitive domains including: memory, concentration, verbal fluency, problem-solving and processing speed. "The entire site is dedicated to women's health and brain fitness, from the artful design to the creativity challenges in the Sketch Gallery. We want women to look forward to their brain workouts and stick with them. Our team works hard to offer new challenges every single day," says Herring, a cognitive trainer and former neuro-rehabilitation director.
Daisy Brains is a subscription-based website that includes a multi-day free trial prior to joining http://www.DaisyBrains.com as a full member. The site offers a variety of membership options and includes women's health articles and tips in addition to hundreds of brain exercises. Daisy Brains is privately held under The Rowing Team, LLC and is based in Richmond, Virginia.