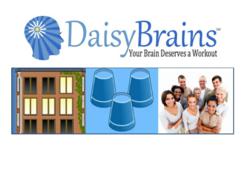 Real Simple launches Daisy Brains games on their website to encourage readers to focus on keeping their memory sharp.
Richmond, VA (PRWEB) July 25, 2012
After a successful launch in the United States and Canada, Daisy Brains is proud to showcase several memory games on Real Simple Magazine's website as part of their August feature on "Nine Expert Ways to Boost Your Memory."
"We are thrilled to share brain games with Real Simple readers and to promote the topic of women's brain health," says Claire Herring, co-founder of Daisy Brains. New research shows that hormonal fluctuations during pregnancy, menopause and in later life can present unique challenges for women in terms of their memory and concentration skills. Women are being diagnosed with Alzheimer's disease at twice the rate of men.
The entire site has been created with women in mind, and it shows. Artful design is evident across the brain games, drawing challenges and brain teasers. "Keeping my memory sharp is very important to me. I have helped my mother deal with Alzheimer's disease and understand how devastating losing your memory can be," says Martha Carlson of Miami, Florida.
While baby boomer women continue to be the fastest growing group joining Daisy Brains, women as young as 20 are joining as well as a growing number of men. Achieving optimal brain performance is important to people of all ages. Since launching in late February, the site has received more than 50,000 site visitors, with a new member joining about every 10 minutes.
Claire Herring notes, "Research continues to indicate that exercise is good for the brain. Challenging your cognitive skills may reduce the likelihood of developing dementia or in some cases slow the progression of the disease."
Daisy Brains is a subscription-based website that includes a free trial period prior to joining as a full member. The site offers a variety of membership options and includes women's health articles and information in addition to brain exercises.
Founded in February 2012, Daisy Brains' mission is to challenge the brain fitness levels of women everywhere. Anyone can sign up for a free trial to experience the new brain workouts that http://www.daisybrains.com has to offer. Daisy Brains is privately held under The Rowing Team, LLC and is based in Richmond, Virginia.