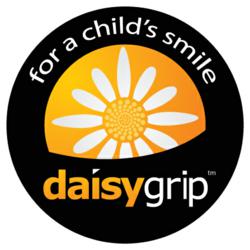 Don't miss your chance to win the brand new iPad ~ brought to you by DaisyGrip™ and Digital Photo Cafe!
Bergen County, New Jersey (PRWEB) May 12, 2012
DaisyGrip™, creators of the revolutionary new tool for photographers to capture a child's smile, are now sponsoring Digital Photography Cafe, makers of an inspiring and educational podcast about the art and business of photography. To celebrate this new partnership, DaisyGrip™ is offering followers a chance to win the brand new Retina display 16GB WiFi iPad® from Apple® along with a DaisyGrip™. They will also select four additional winners to receive DaisyGrips™.
Hurry to enter...the giveaway ends this Sunday, May13th at midnight. Details on how to enter can be found here: DaisyGrip™ iPad Giveaway!
Participants can increase chances of winning simply by "Liking" DaisyGrip's facebook page, following DaisyGrip™ and Digital Photography Cafe on Twitter, and tweeting about the contest.
For those not familiar with the DaisyGrip™, read on.
Created out of necessity by child photographer Christine DeSavino, the DaisyGrip™ was designed to help capture the smile of a child. It does this by holding a wide variety of toys just above the lens of a camera. It can hold finger and hand puppets, stuffed animals, and even an iPhone® playing a child's favorite cartoon.
Company Info:
DaisyGrip, LLC - For a Child's Smile - was recently formed by Christine DeSavino and David Harges, a husband and wife team, and owners of Christine DeSavino Photography. As an offshoot to their children's portraiture business, Christine and David formed this new business to sell and promote the DaisyGrip™, a brand new tool which they designed specifically to help photographers overcome one of the toughest obstacles when photographing a child - capturing that perfect smile and natural giggle.
Digital Photography Cafe:
The Digital Photography Café was created by Trevor Current from CurrentPhotographer.com and Joseph Cristina from Alluremm.com. They have come together to create an inspiring, educational and entertaining podcast about the art and business of photography. Each week Trevor and Joe get together to talk about the creative side of photography and the tools you need to succeed in business. Their topics are varied and everyone from beginner through professional will find some useful information to help grow their skills as photographers.
Christine DeSavino Photography, LLC - a NJ based children's portrait studio - was started in 2007 and has quickly become a premiere custom photography service in northern NJ & the NYC metro area. Specializing in the fine art of children's portrait photography, Christine focuses on the child, capturing the beauty and innocence of each stage in the child's journey. From the expecting mother to the newborn infant, from the precious baby to the determined toddler, from the curious child to the confident teen, her photography captures the unique qualities that children embody.
Company Contact:
DaisyGrip - For a Child's Smile, For a Photographer's Camera
Founded 2011 by the owners of NJ Child Portrait Studio, Christine DeSavino Photography
www(dot)daisygrip(dot)com
david(at)daisygrip(dot)com
Christine DeSavino Photography - Fine Art Children's Portraiture - NYC, NJ & LBI
Christine DeSavino - Photographer & Owner
David Harges - Business Manager & Owner
www(dot)christinedesavino(dot)com
chris(at)christinedesavino(dot)com