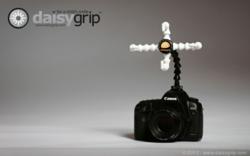 Hillsdale, NJ (PRWEB) March 31, 2013
DaisyGrip - For a Child's Smile, which just celebrated it's first full year, is now offering the DaisyGrip for $49. Due to a very successful start, the creators of the DaisyGrip have been able to reduce the production cost of their flagship product, and now wish to pass the savings on to all child photographers. For more information and to get a DaisyGrip please visit http://www.daisygrip.com
For those not familiar with the DaisyGrip™, read on.
Created out of necessity by child photographer Christine DeSavino, the DaisyGrip™ was designed to help capture the smile of a child. It does this by holding a wide variety of toys just above the lens of a camera. It can hold finger and hand puppets, stuffed animals, and even an iPhone® playing a child's favorite cartoon.
Company Info:
DaisyGrip, LLC - For a Child's Smile - was recently formed by Christine DeSavino and David Harges, a husband and wife team, and owners of Christine DeSavino Photography. As an offshoot to their children's portraiture business, Christine and David formed this new business to sell and promote the DaisyGrip™, a brand new tool which they designed specifically to help photographers overcome one of the toughest obstacles when photographing a child - capturing that perfect smile and natural giggle.
Christine DeSavino Photography, LLC - a NJ based children's portrait studio - was started in 2007 and has quickly become a premiere custom photography service in northern NJ & the NYC metro area. Specializing in the fine art of children's portrait photography, Christine focuses on the child, capturing the beauty and innocence of each stage in the child's journey. From the expecting mother to the newborn infant, from the precious baby to the determined toddler, from the curious child to the confident teen, her photography captures the unique qualities that children embody.
Company Contact:
DaisyGrip - For a Child's Smile, For a Photographer's Camera
Founded 2011 by the owners of NJ Child Portrait Studio, Christine DeSavino Photography
www(dot)daisygrip(dot)com
david(at)daisygrip(dot)com
Christine DeSavino Photography - Fine Art Children's Portraiture - NYC, NJ & LBI
Christine DeSavino - Photographer & Owner
David Harges - Business Manager & Owner
www(dot)christinedesavino(dot)com
chris(at)christinedesavino(dot)com