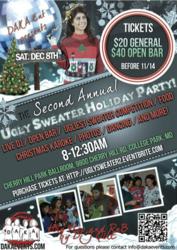 Guests are to arrive in their tackiest, ugliest, "sweateriest" holiday threads for a night to remember.
Washington, DC (PRWEB) November 30, 2012
DAKA Entertainment (DAKA), an events planning company based in DC Metropolitan area, is bringing back their Ugly Sweater Holiday Party by popular demand. The Ugly Sweater Party II will be held December 8th from 8:00 PM -12:30 AM at the Cherry Hill Park Ballroom, located at 9800 Cherry Hill Rd, College Park Maryland. Guests are to arrive in their tackiest, ugliest, "sweateriest" holiday threads for a night to remember. Also, DAKA will be collecting ugly and not so ugly sweaters during the party for donations to the homeless.
Partygoers will enjoy DAKA's open bar ticket option and dance the night away to the latest Hip-Hop and R&B tunes spun by DJ QUE. A buffet of holiday inspired hors d'oeuvres will be provided to make sure guests leave satisfied. Holiday traditions will not be lacking at this year's shindig. There will also be "Carol-oke" so guests can show off their singing prowess. Mistletoe, holiday cheer, among other festive elements, will be in full swing. By the end of the night one lucky participant will be crowned king or queen of the ugly holiday sweaters for the night. Make sure your sweater is extra tacky for a chance to win.
Tickets can be purchased at http://uglysweater2.eventbrite.com/. For questions contact DAKA Event Planners at (301) 357-9355 or info(at)dakaevents(dot)com.
Remember, bring an ugly sweater or 2 to the party for DAKA's homeless clothing drive, donation boxes will be located throughout the ballroom.
More About DAKA Entertainment: DAKA Entertainment's goal is to put on events that bring people together and are a cut above the rest. Not only are they available for hire for numerous types of services, but they are known for their unique annual events. Previous DAKA events include the Ugly Sweater Christmas Party, Linganore Caribbean Wine Fest Party Bus, and Ladies Night In. DAKA Entertainment and Event Planning is the product of many years of ideas and conversations that started freshmen year at Hampton University. The meeting of these four ladies soon turned best friends, could only be of divine facilitation. From the start they have had a passion and talent for planning events and bringing people together. During their tenure at Hampton they threw numerous events that began building a large following. You often times could hear people saying around campus, "When's DAKA's next event?" They knew DAKA had a love and passion for entertaining and had bigger dreams for the company in the future.
For more information about DAKA events or about having DAKA consultants plan your next event please contact info(at)dakaevents(dot)com