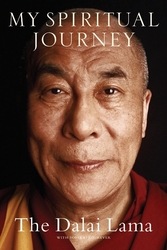 As long as human beings feel pleasure and pain as you do, there is no logical basis that authorizes you to establish distinctions or to diminish your solicitude for them, even when their attitude is negative.
San Francisco, CA (PRWEB) October 6, 2010
His Holiness the 14th Dalai Lama is the head of state of Tibet and has been their spiritual leader since 1959. Although living in exile, he remains the beloved leader of millions of Tibetans, and has become a global icon of spiritual living and the peaceful struggle for justice.
In My Spiritual Journey (October 2010; Hardcover; $25.99; ISBN 9780061960222), the Dalai Lama brings the world a powerful message: one of suffering, success, and hope. A vivid and moving portrait of his life journey, My Spiritual Journey is organized into three parts:

Childhood: The Dalai Lama's childhood memories show his human dimension as he stresses the importance of relating to each other on the basis of common humanity.
Buddhist Monk: He reflects upon his experience as a Buddhist monk, explaining the source of his bodhisattva ideal, and inviting readers to transform the world by transforming our own minds.
The Dalai Lama: In his role as the Dalai Lama, His Holiness explains his wish to establish Tibet as a sanctuary of peace for the world, where humanity and nature can live in harmonious balance.
The Dalai Lama also weighs in on the great issues of our time, including 9/11, religious militancy, violence in Tibet, and the environment. He offers his thoughts on what he hopes will happen when he steps down, and considers what his next incarnation might be.
Despite the trials of his life, the Dalai Lama's hope and good humor shine throughout book. He writes, "I laugh often, and my laughter is contagious. When people ask me how I find the strength to laugh now, I reply that I am a professional laugher…to that is added, as I often say, the responsibility of being realistic. Of course problems are there. But thinking of the negative aspect doesn't help to find solutions, and it destroys peace of mind."
With the help of his trusted collaborator, Sofia Stril-Rever, My Spiritual Journey presents a comprehensive, stirring narrative of the Dalai Lama's spiritual life.
About the Dalai Lama
His Holiness the 14th Dalai Lama, Tenzin Gyatso, is both the head of state and the spiritual leader of Tibet. Since 1959, His Holiness has received over 84 awards, honorary doctorates, and prizes in recognition of his message of peace, non-violence, inter-religious understanding, universal responsibility and compassion. His Holiness has also authored more than 72 books.
About the Contributor
Sofia Stril-Rever is a Sanskrit expert and an interpreter for the Dalai Lama. Having done graduate work in Indian studies, she received training from a traditional Indian pandit and a Tibetan lama in the monastery of Kirti (Dharamsala). She translated and published a collection titled Kalachakra Buddhist Scriptures. She is co-founder of the website http://www.Buddhaline.net.
"My dear friend His Holiness the Dalai Lama is not simply a holy man. He is recognized throughout the world as one of our few true moral authorities. In his new book, My Spiritual Journey, he shares lessons learned from a remarkable life, in turn showing us how to live our own lives with compassion, non-violence and love." — Nobel Peace Prize Laureate, Archbishop Desmond Tutu
MY SPIRITUAL JOURNEY
The Dalai Lama & Sofia Stril-Rever
HarperOne, an Imprint of HarperCollins Publishers
Hardcover | $25.99 | 304 Pages | ISBN 9780061960222
October 2010
###