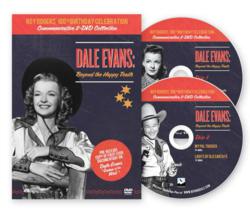 Happy Trails to You!
Charlottesville, Virginia (PRWEB) October 31, 2012
The Roy Rogers' 100th Birthday Celebration 2-DVD Commemorative Collection (http://www.RoyandDale.com) has just been released featuring the new documentary Dale Evans: Beyond the Happy Trails . Watch Now for free: http://vimeo.com/royanddale/daleevans
This 2012 Gift of the Year for seniors celebrates the life of Roy and Dale and their lasting impact on American culture.
Almost everyone over 55 listened to the Roy Rogers' Show on radio, watched Roy Rogers and Dale Evans in the theater, or gathered around the television on Saturday mornings for the Roy Rogers Show with Dale Evans, Pat Brady, Trigger, Bullet, and Nellybelle.
Dale Evans: Beyond the Happy Trails follows the trials and triumphs of Roy and Dale as they celebrated life, but also struggled with the death of multiple children. Dale's book Angel Unaware, written from the perspective of Roy and Dale's Down Syndrome baby Robin, forever changed the public perception of children with Down Syndrome and other cognitive disabilities. Profits from Angel Unaware funded the first Executive Director for the ARC and allowed that grass-roots parent's organization to have their first national headquarters. Dale went on to write 27 other inspirational books and more than 300 songs which have blessed millions around the world.
The best gift in 2012 for anyone in your life over 60, and the perfect gift for someone's 65th birthday, the Roy Rogers' 100th Birthday 2-DVD Commemorative Collection will provoke hours of discussions and recall many fond memories of growing up in the 1940's, 1950's, and 1960's. The perfect gift for grandchildren, this collection will introduce another generation to the values and character exemplified by Roy and Dale. The 2-disc set includes two original full-length feature films, two episodes of the Roy Rogers TV Show, and the first-ever documentary on the life of Dale Evans.
INCLUDED in the 2-DVD Collector's Edition:
Documentary - Dale Evans: Beyond the Happy Trails (33 min)
My Pal Trigger (73 min, uncut)
Lights of Old Santa Fe (73 min, uncut)
The Roy Rogers TV Show: Brady's Bonanza
The Roy Rogers TV Show: Backfire
For interviews, licensing, and ordering:
Call 434-284-0808
Visit: http://www.RoyandDale.com
Text: 434-284-0808
Contact: Steve Morales, Executive Producer
Retail inquiries: wholesale@RoyandDale.com
Watch Now:
View Dale Evans: Beyond the Happy Trails on Vimeo
http://vimeo.com/royanddale/daleevans