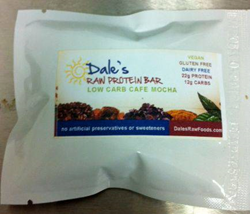 Houston, TX (PRWEB) July 20, 2012
Dale's Raw Foods reviews of his Protein Bars, Protein powders and Greens Powder have been flooding the Internet as Dale Buchanan and his company continues to succeed in business and expands into different distribution locations.
A quick Dale's Raw Protein Bars show that the product are very different than the typical protein bars found in nutrition stores. These bars are made with all natural ingredients, are never dehydrated and have no perservatives. The protein bars are all hand made fresh each week and are vegan friendly. The majority of the protein in the bars comes from hemp protein, pea and some brown rice protein.
According to a reviewer from http://dalesrawfoodsreview.com/, "The best part of the protein bars are they taste better than most of the other's on the market. No grainy taste that you have to wash down with water. The 22 grams of protein in each little bar is great as well!"
The protein bars come in a variety of flavors and are always adding new flavors. Currently they are offering Low Carb Cafe Mocha, Chocolate Almond Coconut, Raspberry Hazelnut, Strawberry Banana, Key Lime Quinoa, Blueberry Macadamia and many other unique and exciting flavors. To keep up one should visit the website.
The Dale's Raw Protein Powder takes the same approach as the bars. The same protein mixture of Hemp, Pea and rice make up the powder's blend. The powder contains 20 grams of protein per serving and comes in the following flavors: chocolate, vanilla, strawberry banana, and unflavored.
Many of Dale's Raw Foods' customers like the fact that they always are changing up special offers and have a variety of combo packs so people can get good deals and change up the flavor profiles.
To get access to Dale's Raw Foods coupon codes one should visit: http://dalesrawfoodsreview.com/dales-raw-foods-coupon-codes-protein-powder-bars-greens
For those who want to get more of Dale's Raw Foos and Protein product should visit his official website here.