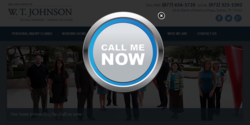 Dallas, TX (PRWEB) October 02, 2012
The home page for The Law Office of W.T. Johnson website has a new feature to make getting in touch with the firm's Dallas personal injury attorneys easier than ever.
The website now features a button prompting visitors to call the firm. When visitors click the button, the website asks for the visitor's phone number. The system behind that technology calls the number and connects the visitor to a W.T. Johnson team member who can then provide a free case evaluation.
"This new functionality on our website aims to make it easier for clients to contact us when they need a personal injury attorney," said David Crowe, one of the Dallas truck accident attorneys on the W.T. Johnson team. "Suffering a personal injury is difficult enough — finding a qualified injury attorney should be easy."
People looking for the advice of a personal injury attorney, including Dallas brain injury attorneys, can access the click to call feature through the "Call Us" tab on the right side of every Web page.
The website has also undergone a small design update recently. The site now shows more pictures of the firm's attorneys, features better typography, new social media icons and rewritten page descriptions to make the process of navigating the website much easier for visitors.
About the Law Office of W.T. Johnson
The W.T. Johnson Law Firm is a team of personal injury and consumer attorneys in Dallas, Texas. The attorneys on the team have recovered more than $50 million for clients and have more than 25 years of experience representing clients in cases involving nursing homes, car wrecks and product liability, among others. The Dallas car and truck accident attorneys on the W.T. Johnson team fight tirelessly to help their clients get the justice they deserve.
###