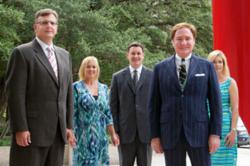 DALLAS, TEXAS (PRWEB) December 27, 2012
The Law Office of W.T. Johnson has made a donation to the Ronald McDonald House of Dallas for the month of December as a continuation of the firm's yearlong support of the organization.
The Ronald McDonald House of Dallas serves families with children who are seriously ill or have sustained a serious injury. The nonprofit provides an affordable, temporary home for families with children in the hospital for extended stays.
Until Jan. 6, those in the Dallas area will be able to support the Ronald McDonald House by purchasing a ticket for the Trains at NorthPark, which encomapasses more than 4,000 square feet of train-themed displays. This year is the 25th anniversary of the Trains at NorthPark supporting the Ronald McDonald House of Dallas.
"Especially during the holiday season, having a child in the hospital is hard on a family," said David Crowe, an attorney on the W.T. Johnson team. "What the Ronald McDonald House does to support families going through such a difficult time is an important service. By providing families with affordable housing near the hospital, families can worry about arranging for top-level medical care for their children instead of where they'll sleep tonight."
This donation comes as part of The Law Office of W.T. Johnson's yearlong community giving campaign. In addition to the Ronald McDonald House, the Dallas lawyers are donating money to the United Way of Metropolitan Dallas, the Dallas Arboretum and Botanical Garden, Operation Kindness and the Cancer Support Community of North Texas.
To read more about the Ronald McDonald House of Dallas or learn how to volunteer, visit the organization's website.
About The Law Office of W.T. Johnson
The Law Office of W.T. Johnson is a team of personal injury and consumer attorneys in Dallas, Texas. The attorneys on the team have recovered more than $50 million for clients and have more than 25 years of experience representing clients in cases involving nursing homes, car accidents and product liability, among others.
###