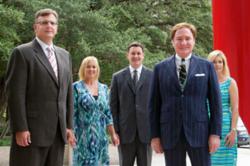 Dallas, Texas (PRWEB) January 22, 2013
The Law Offices of W.T. Johnson has provided a donation to Operation Kindness, the oldest and largest no-kill animal shelter in the North Texas area, for the month of January.
The donation from the Dallas attorneys will help Operation Kindness in its mission to care for homeless dogs and cats in the North Texas area. Currently, Operation Kindness cares for more than 250 dogs and cats on a day-to-day basis through its shelter and foster homes. More than 3,000 pets benefit from Operation Kindness each year.
"What Operation Kindness does for homeless dogs and cats is important to our area," said David Crowe, an attorney on the W.T. Johnson team. "We're supporting Operation Kindness because we believe it is important for businesses to give back to their communities. We look forward to helping Operation Kindness continue the valuable services they offer."
This donation comes as part of the law firm's ongoing initiative to improve the quality of life for everyone who lives in the Dallas-Fort Worth area. In addition to Operation Kindness, The Law Offices of W.T. Johnson is also providing monthly donations to the Ronald McDonald House of Dallas, the Cancer Support Community of North Texas, the United Way of Metropolitan Dallas and the Dallas Arboretum and Botanical Garden.
To learn more about The Law Offices of W.T. Johnson, click here.
About The Law Offices of W.T. Johnson
The Law Offices of W.T. Johnson is a team of personal injury and consumer attorneys in Dallas, Texas. The attorneys on the team have recovered more than $50 million for clients and have more than 25 years of experience representing clients in cases involving nursing homes, car accidents and product liability, among others.
# # #