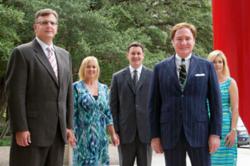 DALLAS, TEXAS (PRWEB) February 13, 2013
The Law Offices of W.T. Johnson has made a donation to the Dallas Arboretum and Botanical Garden for the month of February as part of its yearlong community impact strategy.
The Dallas lawyers donated to the Dallas Arboretum and Botanical Garden to help the nonprofit continue to maintain one of the largest and most beautiful public display gardens in the nation.
The attorneys at The Law Offices of W.T. Johnson also provide monthly donations to the United Way of Metropolitan Dallas, the Cancer Support Community of North Texas, the Ronald McDonald House of Dallas and Operation Kindness. These donations are part of the firm's initiative to give back to the North Texas community and improve the quality of life in Dallas.
"We believe that giving back to our community is part of our responsibility," said David Crowe, an attorney on the W.T. Johnson team. "We started this community impact initiative to live up to that responsibility and to help shape our community into a great place to live for all of its citizens."
This year, the Dallas Arboretum and Botanical Garden will open the Rory Meyers Children's Adventure Garden. The garden will be designed for preschool- to middle school-aged children to learn more about Earth science. Children will be able to explore the eight-acre laboratory and its 17 indoor and outdoor galleries designed around a science theme. To learn more about this garden, visit the Dallas Arboretum's website.
About The Law Offices of W.T. Johnson
The Law Offices of W.T. Johnson is a team of personal injury and consumer attorneys in Dallas, Texas. The attorneys on the team have recovered more than $50 million for clients and have more than 25 years of experience representing clients in cases involving nursing homes, car accidents and product liability, among others.
###