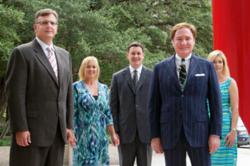 DALLAS, TEXAS (PRWEB) February 26, 2013
The Law Offices of W.T. Johnson has donated money and online publicity to Operation Kindness for the month of February.
The Dallas attorneys chose to donate to Operation Kindness in order to help the nonprofit maintain its high level of care to homeless animals in the Dallas area. Operation Kindness maintains North Texas' oldest and largest no-kill animal shelter.
On Feb. 23, Dallas residents can support Operation Kindness at the "Poker for Paws" community poker tournament. The tournament is free to enter and a $50 donation earns players 5,000 poker chips. Bringing five cans of Pedigree canned dog food or Friskies canned cat food earns players an additional 1,000 chips. Find more information and register for the tournament on this page.
"Operation Kindness performs a valuable service for homeless pets in our area," said David Crowe, an attorney on the W.T. Johnson team. "We're proud to be able to support them in their mission to care for homeless animals in a no-kill environment."
This donation comes as part of the law firm's community impact strategy. Each month, The Law Offices of W.T. Johnson donates money and online publicity to five Dallas-area nonprofit organizations. In addition to Operation Kindness, the attorneys make monthly donations to the Dallas Arboretum and Botanical Garden, the United Way of Metropolitan Dallas, the Ronald McDonald House of Dallas and the Cancer Support Community of North Texas.
About The Law Offices of W.T. Johnson
The Law Offices of W.T. Johnson is a team of personal injury and consumer attorneys in Dallas, Texas. The attorneys on the team have recovered more than $50 million for clients and have more than 25 years of experience representing clients in cases involving nursing homes, car accidents and product liability, among others.
###