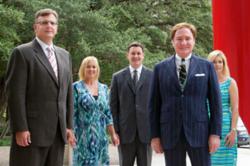 Dallas, Texas (PRWEB) April 04, 2013
The Law Offices of W.T. Johnson has made a donation to the Ronald McDonald House of Dallas for the month of March.
The Dallas lawyers made the donation to help the nonprofit organization continue to provide low-cost temporary housing options to families with children who are receiving treatment in a Dallas area hospital for a serious illness or injury.
According to the Ronald McDonald House of Dallas, providing affordable housing in a home-like environment lessens the burden families face while their child recovers by reducing stress, keeping the family intact and enhancing the family's quality of life.
"Providing temporary housing to families who are caring for a sick child is an incredibly noble cause," said David Crowe, an attorney on the W.T. Johnson team. "Because of them, families with sick children can focus on helping their children heal instead of on trying to find a place to sleep. We're proud to be able to help the Ronald McDonald House do this for so many families."
In addition to providing housing, the Ronald McDonald House of Dallas serves families three meals each day, as well as other services and activities to help guests enjoy their stay as much as possible.
On May 17, the Ronald McDonald House of Dallas will host Share the Love day. The Dallas nonprofit encourages its supporters to show their support by wearing special T-shirts and through social media. To learn more about Share the Love, visit http://www.rmhdallas.org/how-you-can-help/share-the-love/.
About The Law Offices of W.T. Johnson
The Law Offices of W.T. Johnson is a team of personal injury and consumer attorneys in Dallas, Texas. The attorneys on the team have recovered more than $50 million for clients and have more than 25 years of experience representing clients in cases involving nursing homes, car accidents and product liability, among others.
###