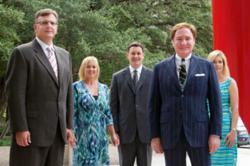 DALLAS, TEXAS (PRWEB) April 25, 2013
The Law Offices of W.T. Johnson has made a donation to the Dallas Arboretum and Botanical Garden for the month of April.
The donation comes as part of the Dallas law firm's yearlong community impact strategy, where the firm makes donations to five area nonprofit organizations in order to improve the quality of life for every person living in the Dallas area.
By donating to the Dallas Arboretum and Botanical Garden, the Dallas lawyers are helping the nonprofit continue to maintain one of the most largest and most beautiful public display gardens in the nation.
"We chose to support the Dallas Arboretum because our firm believes that interacting with nature is important," said David Crowe, an attorney on the W.T. Johnson team. "It's especially important in a big, urban city like Dallas, where people may see more concrete than they do flowers on any given day. The Dallas Arboretum is good for the people in our area, and they instill a love of nature in our children. We're proud to be able to support their work."
The Dallas Arboretum and Botanical Garden will be offering tea at 11 a.m. and 2 p.m. every day of the week from now until Sept. 20. The tea service comes with three food courses and costs between $47 and $57 per person. Reservations can be made by visiting https://reservations.dallasarboretum.org/Info.aspx?EventID=103.
About The Law Offices of W.T. Johnson
The Law Offices of W.T. Johnson is a team of personal injury and consumer attorneys in Dallas, Texas. The attorneys on the team have recovered more than $50 million for clients and have more than 25 years of experience representing clients in cases involving nursing homes, car accidents and product liability, among others.
###