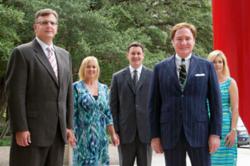 DALLAS, TEXAS (PRWEB) June 18, 2013
The Law Offices of W.T. Johnson has made a donation to Operation Kindness, the oldest and largest no-kill animal shelter in North Texas, for the month of May.
The donation from the Dallas attorneys will help Operation Kindness continue to care for homeless dogs and cats in North Texas in its no-kill shelter while working to get each animal adopted into a responsible, loving home.
On a day-to-day basis, Operation Kindness serves between 200 and 250 dogs and cats in its shelter and 60-80 animals through foster homes. Each year, the nonprofit organization cares for between more than 3,000 pets. These animals are cared for until Operation Kindness finds a suitable home for them through a thorough interview process.
Additionally, Operation Kindness staff take the some of the shelter's dogs and cats to area nursing homes to give residents a chance to enjoy the companionship of a pet. Staff and volunteers for the organization frequently speak to community, school and youth groups about pet overpopulation, responsible pet care and kindness to animals, as well.
"Operation Kindness performs a valuable service in our community," said David Crowe, an attorney on the W.T. Johnson team. "Pet overpopulation is a serious problem across the nation, and they work to stem the proliferation of unwanted dogs and cats while also caring for the pets who need homes and companionship."
To donate to Operation Kindness, click here.
About The Law Offices of W.T. Johnson
The Law Offices of W.T. Johnson is a team of personal injury and consumer attorneys in Dallas, Texas. The attorneys on the team have recovered more than $50 million for clients and have more than 25 years of experience representing clients in cases involving nursing homes, car accidents and product liability, among others.
###