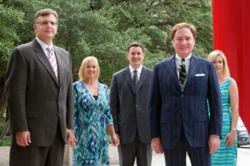 DALLAS, TEXAS (PRWEB) November 21, 2012
The Law Office of W.T. Johnson has made a donation to the Cancer Support Community of North Texas for the month of November.
The Dallas car accident attorneys have decided to donate money to the Cancer Support Community of North Texas each month for one year in order to help the nonprofit organization in its mission to provide social and emotional support to individuals and families affected by cancer.
To accomplish its mission, the Community provides support groups, networking groups, lectures, workshops and social events to anyone affected by a cancer diagnosis. The organization aims to ensure that all people affected by cancer gain the community and knowledge necessary to empower, strengthen and sustain them through their battle with cancer.
Through its locations in Dallas County and Collin County, the organization provides information about stress management, nutrition and exercise and patient advocacy to cancer patients and their families.
"Many of us know someone who has been diagnosed with cancer," said David Crowe, an attorney on the W.T. Johnson team. "We understand how scary the time after a cancer diagnosis can be, and we also understand that education and support is the best way to fight through the fear and beat cancer. We're proud to be able to support the work of this organization."
This donation comes as part of The Law Office of W.T. Johnson's initiative to give back to the Dallas and Fort Worth communities through monthly donations of money and online publicity.
About The Law Office of W.T. Johnson
The Law Office of W.T. Johnson is a team of personal injury and consumer attorneys in Dallas, Texas. The attorneys on the team have recovered more than $50 million for clients and have more than 25 years of experience representing clients in cases involving nursing homes, car accidents and product liability.
###