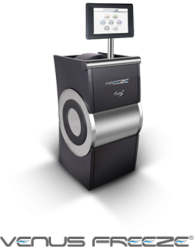 I think the results speak for themselves...best of all the procedure is virtually painless.
Dallas, TX (PRWEB) October 17, 2011
Dallas area dermatologist now offers Venus Freeze. The Venus Freeze™ tightens skin, improves cellulite, and reduces body circumference with advanced radio frequency technology.
Based on the innovative (MP)² Technology, Venus Freeze® creates a synergy of magnetic pulses and radio frequency (RF) to deliver pleasant treatments and superior results. Venus Freeze® is suitable for various face and body applications including circumference reduction, cellulite improvement, and skin tightening of the face, arms, abdomen, thighs and buttocks.
"I think the result[s] speak for themselves," states Dr. Brown, who is among a small group of cutting-edge physicians around the country to offer the procedure. "Best of all, [the procedure] is virtually painless. In fact, patients say it feels very pleasant."
The Venus Freeze device, manufactured by Venus Concept LTD, is currently sold in over 40 countries and has been widely accepted as the new standard of treatment. Dr. Brown provides this procedure to patients in the Dallas, Texas metropolitan area.
The key to the effectiveness of the Venus Freeze comes from the combination of the magnetic pulse component with proven radio frequency technology. The magnetic pulse component induces the release of growth factors required for the creation of new blood vessels, while the RF component simultaneously induces new collagen and elastin synthesis. The Radio Frequency component achieves this by causing controlled thermal damage in the dermis, which triggers the natural self-repair mechanism of skin tissue. The result of the combined treatment is markedly improved skin tightness and elasticity, as well as overall skin condition.
Venus Freeze's® dense energy matrix penetrates into multiple layers of the skin, ensuring improved clinical efficacy and noticeably visible results. The unique energy delivery guarantees quick achievement of therapeutic temperature without the need of a cooling system, short treatment time due to coverage of a large treated area, and a pleasurable evenly distributed heating sensation.
Dr. Christine Brown is a fellow of the American Academy of Dermatology, the American Society of Dermatologic Surgery, and the American College of Mohs Surgery. She is the director of her own private practice, located in Dallas, Texas, where she also performs Botox, Juvederm, fractional laser resurfacing, laser hair removal, IPL photorejuvenation, and microdermabrasion treatments.
###