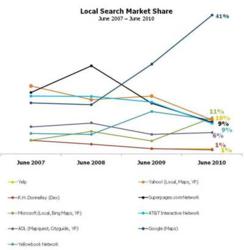 Local Search is shifting from fragmented directories to Places and mobile searches
Dallas, TX (Vocus/PRWEB) January 26, 2011
Mike Stewart has been a busy guy. The Director of Search Marketing for the premier Dallas internet marketing boutique entitled simply "SMBSEO," he honed his skills as a business advertising expert by working with Verizon Yellow Pages and SuperPages straight out of school over a decade ago (yes, that Yellow Pages.) Since his departure, he and his partners have launched SMBSEO (http://www.smbseo.com,) a search engine marketing company dedicated to small and medium-sized businesses in the Dallas-Fort Worth Metroplex area. The results-oriented company uses what they call a holistic approach to driving targeted internet traffic to business websites; 'holistic' meaning comprehensive and making sure all the details are treated with equal importance in the marketing process. The success of this approach has earned Mr. Stewart an elite spot on the Dallas/Fort Worth Search Engine Marketing Association's Board of Director's, or DFWSEM (http://www.dfwsem.org ) for short. The organization is dedicated to the promotion of the industry and educating business managers in the North Texas area about the importance of search engines to their success.
Mr. Stewart and the staff at SMB SEO know that search marketing is a tried and true method for getting results when it is done by an expert. As a premier dallas seo consultant, known as the "Dallas guru" in the industry, Mike Stewart is applying his extensive experience to help SMBSEO customers with all areas of search engine marketing (SEM.) Their services cover every aspect of SEM, and include local search rankings, Pay Per Click advertising, Video marketing (see an introduction to the company here: http://www.youtube.com/watch?v=gj9365eFrZc ) and internet primed website design. To manage a company's reputation they use major social media outlets. Creating a strong internet presence requires using all of these methods and clients reap the overlapping results. SMBSEO tracks each and every campaign, whether it is PPC advertising or article marketing. Clients also receive free web ranking reports, showing which campaigns are getting results and which can be improved on. In addition, statistics are tracked with Google Analytics. These are the stats business owners will not be able to stop peeking at; it lets them track every visitor, as well as the referring domain they came from and the keywords which brought them there, almost in real time. This is the holistic marketing approach of SMBSEO and the genius of Mike Stewart. Also known as targeted directional marketing, the comprehensive process draws web traffic from multiple avenues, bringing potential customers who are focused on finding their product or service. In simple terms, the business owner's website ranks higher with search engines and gets more traffic and more local sales as a result. Getting to this point in today's market is far from simple, however.
Client's of the dallas seo firm receive expert service to identify niche markets and expose them to their brand. Mr. Stewart and his team begin developing a strategy for a business by laying out a pre-campaign plan. The plan includes researching the intended market, analyzing a company's existing websites (if any,) evaluating the competition, as well as identifying the ideal consumer for the brand. The team focuses on SEO-friendly website development as part of the plan as well. A creative website design which entertains and is search engine friendly is crucial to internet success. As part of the design, key landing pages and where appropriate, 'microsites' are optimized to draw as much organic traffic (visitors the business does not have to pay for) as possible. These are the pages that create money-making opportunities for businesses and are the driving force behind sales volume. Once the website is ready, SMBSEO begins their advertising campaigns. Google AdWords Certified team members manage the pay per click campaign for every client. In addition to being trained as Google Adwords pros, team members stay updated through PubCon training seminars and are experts at running Google, Yahoo and MSN AdCenter interfaces. SMBSEO strives for transparency when working with clients. SMBSEO helps clients witness the improvement of rankings with web ranking reports and Google Analytics reporting. Should they fail to get results, their customers have full access to their campaign. If they need to, the entire campaign can be moved to another provider without any loss of information. However, Mr. Stewart and his team offer something most companies do not; unmatched expertise and low month-to-month flat fees. While a PPC campaign is an important aspect of getting hot leads to a business website, it can represent a significant cost. In its absence the website will not experience long term high rankings in the search engines. This is where holistic SEM becomes essential. Both paid and natural results are key to seeing increasing targeted visitors to a website over time. Natural, or organic results come from search engine optimization. While SEO is inexpensive, it takes longer to see results. SBMSEO uses both strategies because together they work for each other, getting a business noticed faster. Fast results are not uncommon with a holistic process, especially with video search. A potential customer can land on a company's video within seconds of uploading it to YouTube, a site receiving about a billion views a day. The DFW SEM firm uses YouTube, Yahoo, MetaCafe, Hulu and similar video sites to distribute client videos. Their services include professional video production writing the script, voice production and editing, music and editing, and they do it all at affordable rates.
What separates SMBSEO from other search engine marketing firms is the companies ability to provide clients with content on and off of the clients website to increase the online authority of websites and hyper links.
Now more than ever businesses need an expert in paid search advertising and search engine optimization to keep up with the changes taking place on the internet and major search engines like Google. One way the dallas internet marketing firm does this is by taking advantage of all cutting edge social media, in which Facebook plays a major role. As the second most popular place to be on the World Wide Web, each client needs a professional strategy to make it work in their favor. SEM encompasses all of these aspects, pay-per-click, social media and organic seo; but it also means exploiting the leading search engines for a particular niche. Google may be the leader in many areas, but YouTube, MarketWatch, Fox News and other sites hold the number one spot for video, finance and news, respectively. Search engine advertising campaigns today involve expertise which extends beyond increasing the page rank of a website. SBMSEO takes the multiple aspects of SEM and creates a roadmap for each business. They obtain results for their clients by being active holistic search marketers and using all the profit channels at their disposal.
SBMSEO has been helping small and medium-sized business owners increase their profits by harnessing the power of the internet search. The company has maintained their focus on local search results for several years and has over 35 years of combined experience on their staff. They are Mike Stewart, the acclaimed "Dallas Google Guru" of the internet and director of marketing; Casey Watkins, an experienced network administrator, SEM and linkbuilding SEO expert, and Janet Bro, Director of Sales and Business Consultant with extensive experience in both. SMBSEO also has experts in content writing and pay-per-click management. The company has earned numerous accolades from their clients and expects to be positioned as a premier player in the local search marketing industry for many years to come.
Contact: Mike Stewart - Dallas SEO Consultant
6333 E. Mockingbird #147-830,
Dallas, TX
214-267-9553
###