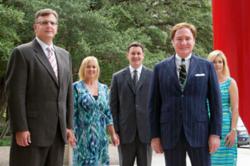 Dallas, TX (PRWEB) December 05, 2012
The Law Office of W.T. Johnson has made a donation of money and online publicity to the Dallas Arboretum and Botanical Society for the month of December.
The Dallas lawyers are supporting the Dallas Arboretum and Botanical Society with money and online visibility every month for a year in order to help the organization continue to grow and maintain its beautiful public display garden.
Throughout the holiday season, the garden will host three special events: the Artistry of the Nativity, Holiday Tea and Chihuly Nights. The Artistry of the Nativity features collections of nativity scenes from around the world and is available daily. Holiday Tea is available by reservation and consists of three courses — soup, sandwich and dessert — along with a selection of four different teas. The garden will also be open on Sunday, Monday, Tuesday and Wednesday nights for Chihuly Nights, where visitors can view illuminated sculptures in the moonlight.
"The events offered by the Dallas Arboretum are truly beneficial to our community," said David Crowe, an attorney with the Law Office of W.T. Johnson. "This wonderful organization works to make Dallas a more beautiful place, and it's important to us that their work continues for years to come."
This donation is part of the Law Office of W.T. Johnson's initiative to make Dallas a happier and healthier community. In addition to the Dallas Arboretum and Botanical Society, the firm donates to four other Dallas-area charities, including the United Way of Metropolitan Dallas, the Cancer Support Community of North Texas, Operation Kindness and the Ronald McDonald House.
About The Law Office of W.T. Johnson
The Law Office of W.T. Johnson is a team of personal injury and consumer attorneys in Dallas, Texas. The attorneys on the team have recovered more than $50 million for clients and have more than 25 years of experience representing clients in cases involving nursing homes, car accidents and product liability, among others.
###