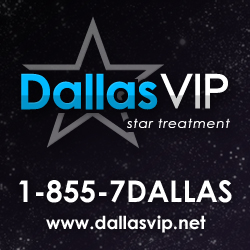 Celebrity treatment
Dallas, TX (PRWEB) April 28, 2012
Dallas VIP is a luxury Destination Management Company known for their legitimacy, creativity, and expertise in providing clients "celebrity treatment." Dallas VIP can plan, customize, and host any event for large groups, corporate events, music festivals, bachelor and bachelorette parties, birthdays, reunions, or special event. Dallas VIP will help its customers with daytime leisure to nightlife adventure including party planning, travel, nightlife, dining, events, golf, transportation, and more.
Established in 2011 by Michael Tomes and David Tamayo, Dallas VIP exposes the best of what Dallas has to offer. Each client has a personal Dallas VIP planner to arrange their event down to the smallest detail. Every venue and activity is awaiting the party's arrival with all the reservations and details confirmed with no hassles. Working with Dallas VIP is akin to having a knowledgeable team available to plan and arrange the perfect night out for any age, party size, style, or taste. Dallas VIP will be hosting large scale music festivals and a New Year's Eve party that everyone in the city will be want to attend in 2012! Dallas VIP offers the highest level of personalized travel, transportation, sports ticketing, and entertainment related services to discerning individuals interested in getting the most out of Dallas. What makes Dallas VIP so unique is that there are no membership fees, secret handshakes, written applications, or defined club guidelines. After calling the companies toll free number, 1-855-7Dallas, the staff will probe to find out what the goal of the project is then, without hesitation, set into motion a network of relationships and connections designed to make the inaccessible accessible. Dallas VIP delivers every imaginable option and opportunity with the grace, style, and care that could be expected from any five star reservations service.
With two recently launched websites, DallasVIP.net and DallasLimoServices.com, it won't be easy to find a more professional or reliable personalized planning service than the team at Dallas VIP. The staff at Dallas VIP will help create the ideal itinerary and execute it in VIP style! The Dallas VIP ultimate goal is to provide individuals with long lasting memories of their experience in Dallas. "It's all about referrals." says owner Michael Tomes and David Tamayo. "That was the way we succeeded when we first became event planners over a decade ago, and it is still true today. You can plan anything you want in Dallas through Dallas VIP and trust that we know how to make it happen and exceed expectations."
With unique VIP packages such as "Clear as Glass" that offers an all inclusive dinner at Sangria, limo transportation, and VIP access with bottle service at Glass Nightclub, planning a Dallas night out can be fun! Strong relationships and connections provide Dallas VIP access to exclusive venues, as well as the ability to create events of every size, style, and magnitude. From customized themed events that fit any and all visions, to a general conference meeting, Dallas VIP is able to accommodate every need fast and efficiently. We specialize in supplying a wide array of entertainment to corporate and private functions from transportation and security, to promotional models. Dallas VIP can handle all requests and needs down to the last detail. The experienced staff will analyze all aspects of the planned event, then deliver innovative solutions to fit all needs, such as budget specifications.
Dallas VIP is Dallas' premiere destination management company specializing in group event planning. By taking a "hands on" approach from start to finish for each and every client, Dallas VIP is able to fill a much needed niche in the Dallas Metroplex area. The knowledgeable staff will help to create the event of a lifetime.