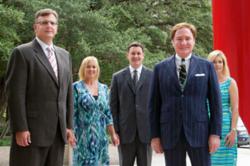 DALLAS, TEXAS (PRWEB) October 17, 2012
The Dallas nursing home abuse attorneys at the Law Office of W.T. Johnson are known for more than just caring for personal injury victims. This month, they are donating money and online publicity to the Cancer Support Community of North Texas to help the nonprofit in its mission to provide support to individuals, families and friends affected by cancer.
The involvement of these Dallas attorneys is significant in that beyond financial support, they also send a message to other community leaders, highlighting the importance of community engagement and participation by all.
Because of donations like the ones from the W.T. Johnson team, the Cancer Support Community of North Texas is able to provide no-cost services to people affected by all forms of cancer.
The Community provides support groups, networking groups, lectures, workshops and social events to help those whose lives have been affected by a cancer diagnosis thrive in spite of the circumstances. The organization works to ensure that all people touched by cancer are empowered, strengthened and sustained by the information and support the Community provides.
"Many of us have had a loved one who has suffered from cancer," said David Crowe, one of the nursing home attorneys on the W.T. Johnson team. "We're helping the Cancer Support Community because we believe no one should have to endure this awful disease alone."
The law firm's donation to the Cancer Support Community is part of the firm's ongoing initiative to help make the Dallas-Fort Worth area an even nicer place to live, Crowe said.
About The Law Office of W.T. Johnson
The Law Office of W.T. Johnson is a team of personal injury and consumer attorneys in Dallas, Texas. The attorneys on the team have recovered more than $50 million for clients and have more than 25 years of experience representing clients in cases involving nursing homes, car accidents and product liability.
###