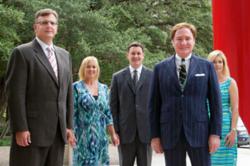 DALLAS, TEXAS (PRWEB) November 14, 2012
In honor of National Family Caregivers Month, The Law Office of W.T. Johnson is running a monthlong blog series about caring for loved ones at home to help the estimated 65 million family caregivers in the United States.
The blog posts give tips on helping loved ones make the transition from living independently to relying on family members, easy-to-implement home safety features and ensuring that your loved one is well cared for.
The Dallas nursing home attorneys at the Law Office of W.T. Johnson chose to run this series on their blog to give the care providers acknowledgement for the vital role they play in our society and because the attorneys have seen the neglect and abuse that can happen when senior citizens aren't properly cared for.
"Caring for a loved one is difficult and stressful, especially at the beginning," said David Crowe, an attorney on the W.T. Johnson team. "But education helps mitigate the stress, and, from our experience with nursing home abuse and neglect cases, we've been able to gather a lot of information how to make being a caregiver easier. We hope that this series provides some help to families caring for a loved one."
To view the first blog post in this series about caring for loved ones at home, click here.
About The Law Office of W.T. Johnson
The Law Office of W.T. Johnson is a team of personal injury and consumer attorneys in Dallas, Texas. The attorneys on the team have recovered more than $50 million for clients and have more than 25 years of experience representing clients in cases involving nursing homes, car accidents and product liability, among others.
###