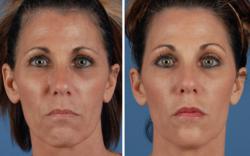 Technology advances aim to meet those demands, but we need to make sure we keep up with new procedures and potential complications, so we can provide the best care possible.
Dallas, Texas (PRWEB) October 06, 2011
Dr. Rod Rohrich, Dallas plastic surgeon and chair of the department of plastic and reconstructive surgery at UT Southwestern Medical Center, led a nonsurgical dermal filler and toxin course at the September meeting of the American Society of Plastic Surgeons (ASPS) in Denver. From Botox® to fat injections, nonsurgical cosmetic procedures have increased. Dr. Rohrich urged practitioners of plastic surgery to remain up-to-date on dermal filler and toxin information to assure safe procedures and positive results.
"Cosmetic surgery patients look for ways to eradicate signs of aging, and they are demanding better results with less recovery time," Dr. Rohrich explains. "Technology advances aim to meet those demands, but we need to make sure we keep up with new procedures and potential complications, so we can provide the best care possible."
The American Society of Plastic Surgeons reported a 5 percent increase in minimally invasive procedures from 2009 to 2010.
Increase in nonsurgical plastic surgery due to new products and techniques
Dr. Rohrich said the increase in nonsurgical cosmetic procedures is due to continuous approval of new products, new uses and improved injection techniques.
The injection of Botox® and other botulinum toxin Type A products still is the number one nonsurgical cosmetic procedure in the U.S., with almost 5.4 million injections, an increase of 12 percent over the previous year. Hyaluronic acid injections lead the dermal filler market with just over 1.2 million injections. Use of other dermal fillers also increased from 2009 to 2010.
The use of fat injections, an important new technique for facial rejuvenation, according to Dr Rohrich, is increasing as well, especially in combination with the Lift and Fill Facelift.
Overview of Cosmetic Injectables, Including Hylaronic Acid Fillers, Botox and Fat
In the ASPS course, Dr. Rohrich delivered an overview of injectable products, as follows:
Fat Injections
Fat injections add volume, fill wrinkles, fill lines and enhance lips. Plastic surgeons take fat from abdomen, thighs or buttocks and reinject it beneath the skin into specific fat compartments of the face. Because the fat comes from a person's own body, allergic reaction is not a factor. Results vary, but they can last for several years. Fat injections increased 14 percent from 2009 to 2010.
Botulinum toxin Type A. New arrivals: Xeomin.
These products were first used to treat eye disorders, neck spasms, cranial nerve disorders and eye spasms. For cosmetic purposes, these injectables block nerve impulses, which temporarily softens and weakens the muscles and improves moderate-to- severe wrinkles. Product names include Botox® (the first), Dysport®, and the newest arrival, Xeomin®. Xeomin is a pure Botulinim Toxin Type A, which is in a pure form and is used much like Botox to soften upper face wrinkles, turn up corners of the mouth, plump up lips and soften chin dimples.
Hyaluronic Acid
A natural substance causing only rare allergic reactions, hyaluronic acid dermal fillers correct moderate-to-severe facial wrinkles and folds, as well as augment lips. These are by far the best fillers for the delicate lip areas. Product names include Restylane®-L, Perlane®-L, Juvederm® XC, and Prevelle™ Silk.
Semi-Permanent Fillers
These also are called particulate soft-tissue fillers. They are used to reduce wrinkles and add volume, in some cases correcting facial wasting caused by HIV-associated lipoatrophy, as well as malar augmentation. Product names include Sculptra® and Radiesse®.
Non-resorbable, "Permanent" Filler
Most dermal fillers are absorbed by the body and are not permanent. Artefill® is the first injectable to provide permanent support to wrinkles and prevent further wrinkling.
In the Denver ASPS course, Dr. Rohrich and his faculty also performed live filler and botulinum toxin demonstrations for more than 200 plastic surgeons from around the world. He shared information about each product, including its purpose, possible side effects, expected results and regulatory status.
About Rod J. Rohrich, M.D., F.A.C.S.
Rod J. Rohrich holds the Betty and Warren Woodward Chair in Plastic and Reconstructive Surgery at UT Southwestern Medical Center in Dallas, Texas. He also holds the UT Southwestern Medical Center Crystal Charity Ball Distinguished Chair in Plastic Surgery. He is a graduate of the Baylor College of Medicine with high honors, with residencies at the University of Michigan Medical Center and fellowships at the Massachusetts General Hospital/Harvard (hand/microsurgery) and Oxford University (pediatric plastic surgery). He has served as president of the American Society of Plastic Surgeons. He repeatedly has been selected by his peers as one of America's best doctors, and twice has received one of his profession's highest honors, the Plastic Surgery Educational Foundation Distinguished Service Award, which recognizes his contributions to education in his field. Dr. Rohrich participates in and has led numerous associations and councils for the advancement of plastic and reconstructive surgery. He is a native of North Dakota. He is married to Dr. Diane Gibby, also a plastic surgeon. They live in Texas with their two children.
###