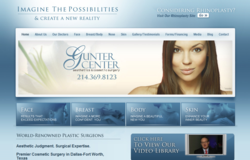 Dallas, TX (Vocus/PRWEB) March 02, 2011
Dallas Rhinoplasty, edited by Dr. Jack Gunter, Dr. Rod Rohrich, and Dr. Bill Adams and published by Quality Medical Publishing, Inc., is considered the definitive reference in nasal surgery. This magnum opus in cosmetic surgery has been translated into Chinese to meet the growing demand worldwide for information on this topic. The most recent translation testifies to the value of this classic medical dissertation for surgeons throughout the world, as well as the far-reaching reputation of its editors. Written and edited by the recognized pioneers of rhinoplasty, this two-volume set is an essential addition to any cosmetic surgeon's library.
Based on the knowledge and expertise gathered from over two decades of participation in the annual Dallas Rhinoplasty Symposium—which first began in 1983 due to the efforts of Dr. Jack Gunter and Dr. Robert Oneal—this book provides a wealth of valuable information, from basic fundamentals and anatomy to the latest refinements and advances in technique. Viewed worldwide as the definitive nasal surgery text, the Chinese translation of Dallas Rhinoplasty was inevitable.
As the editors of the authoritative text, Dr. Gunter, Dr. Rohrich, and Dr. Adams represent the acknowledged leaders and other major contributors in the plastic surgery community, as well as those surgeons specializing in rhinoplasty procedures in particular. The entire collection includes two volumes totaling more than 1500 pages, with more than 3100 color illustrations, further supported by 3 DVDs. As the text travels throughout the global cosmetic surgery community, its continued success is a testament to the resounding impact its editors have had on all forms of rhinoplasty, and the entire aesthetic enhancement industry.
About Dr. Gunter
Dr. Jack P. Gunter earned his medical degree from the University of Oklahoma School of Medicine. He then completed his general surgery residency at the University of Arkansas Medical Center, a residency in plastic surgery at the University of Michigan, and an Otolaryngology residency at Tulane University. Dr. Gunter is a member of the American Society of Plastic Surgeons, the American Society for Aesthetic Plastic Surgery, and the American College of Surgeons. He continues to rigorously lecture and publish in the plastic surgery community, and has garnered a number of prestigious awards throughout his illustrious career.
The Gunter Center for Aesthetic and Cosmetic Surgery is located at 8144 Walnut Hill Lane, Suite 170 in Dallas, TX 75231, and can be reached at (214) 369-8123, or found online at http://www.gunter-center.com, or http://www.rhinoplasty-usa.com.
###