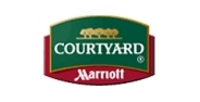 Dallas, TX (PRWEB) July 25, 2009
Right now, the Courtyard Dallas DFW Airport South Irving is offering a special. Guests that stay two nights can get the third night free. This promotion is good from July 1st through September 7th 2009. Also, those that make reservations by September 7th will get an extra 1000 Marriott points.
Sports fans are flocking to the Courtyard Dallas DFW Airport South/Irving because of its close proximity to their favorite sporting events and the great savings it offers. Not only is Dallas a great place for summer sports, but there are also amazing DFW hotel specials that make traveling easier than ever before.
Those that choose to take advantage of these hotel deals DFW airport will get to stay near the best sporting events Dallas has to offer. First, the best of the Irving Texas hotels near DFW airport puts visitors right near the Dallas Cowboys. Visitors can also go see the Texas Rangers after they book a room at the Courtyard Dallas DFW Airport South/Irving. Irving Texas airport hotels are close to the stadium, so people can take lots of games in during their stay.
Lonestar Park is another popular destination for sports fans. The park has some of the best Quarter Horse and Thoroughbred racing the United States has to offer. People are also taking advantage of DFW hotel specials so they can take the family out to Six Flags or Hurricane Harbor. With so many attractions surrounding the hotel, this is expected to be a fun filled summer for guests.
To get in on the summer fun and great savings at the Courtyard Dallas DFW Airport South Irving, be sure to use one of the appropriate promotional code when you book your room. For a weekday king, the code is TZJC. The code for a weekend king is TZJA.
For a standard room, use the promotional code TZJD if staying on a weekday or TZJB if staying on a weekend.
For more information or to book your room, visit http://www.marriott.com/hotels/travel/daliv-courtyard-dallas-dfw-airport-south-irving/ or call 1-800-321-2211.
About the Courtyard Dallas DFW Airport South/Irving
The Courtyard Dallas DFW Airport South/Irving has received a Michelin Star rating. The hotel is conveniently located near many of the attractions in Dallas, and is a favorite for sports fans. Travelers also like the Courtyard due to its luxurious rooms and close proximity to the airport. A shuttle service is available, making it even easier for travelers.
# # #