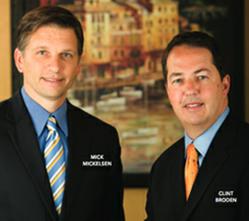 Dallas, TX (PRWEB) April 10, 2013
According to a new registry of wrongful convictions compiled by the University of Michigan Law School in a joint project with Northwestern University Law School, there have been 43 wrongful convictions exonerated so far in 2013. The registry includes over 1,000 total exonerations.
A high profile example in Texas of a wrongful conviction was the case of Michael Arena who walked out of prison almost 13 years into a 20-year sentence.
In Texas Supreme Court M.P.A. No. 10-0859 On Appeal from the Third Court of Appeals No. 03-08-00337-CV, Austin, Texas, Clint Broden, a partner in the criminal law firm, Broden & Mickelsen, won the Texas Supreme Court's first decision in a juvenile habeas case.
The case has been featured on ABC's 20/20 and was highly publicized in the Austin area.
In the last 2 years, Clint Broden has handled approximately 70 federal appeals. He has received oral augment in almost half of those cases despite the fact that the Fifth Circuit only grants oral argument in approximately ten percent of criminal cases. More importantly, although the Fifth Circuit only grants relief in approximately eight percent of criminal cases, Clint has obtained relief for his client in approximately twenty-five percent of the cases he has handled.
Certified Specialists in Criminal Law and Criminal Appellate Law by the Texas Board of Legal Specialization