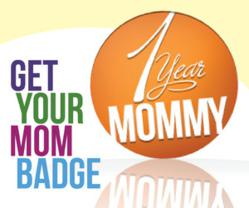 Motherhood is 365 days a year. Why not wear your Mom Badge proudly all year long?
Dallas, Texas (PRWEB) April 30, 2013
DallasMomsandDads.com announced today the release of The Mom Badge, a virtual pin to be worn online in celebration of motherhood.
The Mom Badge is a web-based icon that can be displayed as a profile image or avatar across social spaces like Facebook, Twitter, Pinterest, Blogger and many other networks. It encourages mothers to claim their title of Mom and in return accept well-deserved praise from family, friends and followers this Mother's Day.
Moms can visit DallasMomsandDads.com to select a badge based on the number of years they've held the esteemed title. Essentially, there's a badge for everyone, from new moms to great-grandmothers.
DallasMomsandDads.com co-founder Tiffani Allen came up with the idea after seeing a number of coworkers receive accolades at the office. "In a corporate setting, we celebrate the achievements of employees who help the company meet their goals each year. Their names appear on the company Intranet and in newsletters. Based on their tenure, they even receive gifts and other rewards," said Allen. "Well, the role of parent is the most important title of them all. Moms help us reach our life long goals but rarely sit back and accept praise for a job well done.
"We hope that Moms will add the badge to their social network profiles such as Facebook and Twitter and if you see a Mom Badge online, we hope you'll send some words of encouragement and thanks. She deserves it."
In addition to the Mom Badge, visitors to DallasMomsandDads.com will discover why the area's online magazine is adopting new readers rapidly since its launch in March 2013. The web site, led by a husband and wife with two small children, features rich content from both a mom and dad's perspective. The magazine highlights all the topics that matter most to parents, from sex and dating to discovering family-friendly outlets throughout the city.
DallasMomsandDads.com released The Mom Badge in time for Mother's Day, but hopes Moms will display the image throughout the year. "Motherhood is 365 days a year. Why not wear your Mom Badge proudly all year long?"
About the Mom Badge
The Mom Badge is available at DallasMomsandDads.com/MomBadge. The image can be uploaded as a profile image on any web site in observance of Mother's Day or worn all year long.
About DallasMomsandDads.com
DallasMomsandDads.com is everything from play dates to date nights. The online magazine, managed by a local husband and wife with two small children, focuses on bringing readers information and entertainment news to complement the parent and partner in everyone. Readers will enjoy information on relationships and romance, parenting, recreation, and an event calendar filled with best bets throughout the Dallas metro and suburbs.