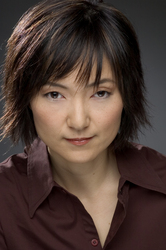 Hotoda, just beginning her career, appears talented and poised…she has strong potential.
Dallas, TX (Vocus) October 23, 2008
The Dallas Symphony Orchestra today announces the appointment of Rei Hotoda as assistant conductor, beginning in September 2009.
Hotoda will begin a one-year contract as full-time assistant conductor beginning September 1, 2009. Hotoda's responsibilities will include assisting with Texas Instruments Classical Series performances and conducting parks, youth, family and other concerts as assigned. She succeeds former DSO Assistant Conductor Danail Rachev, who left Dallas last summer to become assistant conductor of the Philadelphia Orchestra.
A protégé of acclaimed conductor Marin Alsop, Hotoda is currently working as assistant conductor of the Winnipeg Symphony Orchestra in Winnipeg, Canada. At the WSO, Hotoda conducts a myriad of series and performances including the recent Baroque Music Festival where she conducted from the harpsichord.
New Music Director of the Dallas Symphony Orchestra Jaap van Zweden said, "She seems to be a very intelligent and strong musician. We look forward to having her with us." And President of the Dallas Symphony Orchestra Doug Adams added, "Rei Hotoda made a strong impression during the final round of auditions. She was the unanimous choice, and we are delighted that she will be joining the DSO team."
Hotoda has conducted premieres of notable composers from Asia, Europe and North America including Toshio Hosokawa, Nicole Lizee, Salvatore Sciarrino, Michael Maierhof and Gene Coleman and has worked closely with Jennifer Higdon, Christos Hatzis and Dai Fujikura. In June, 2007, the Washington Post wrote of her abilities, "Hotoda, just beginning her career, appears talented and poised…she has strong potential."
"I want to thank the members of the Winnipeg Symphony Orchestra, Alexander Mickelthwate and the WSO administration for their wonderful support these past few years," said Rei Hotoda. "I look forward to my work with the Dallas Symphony Orchestra with much enthusiasm."
About Rei Hotoda
Conductor and pianist, Rei Hotoda is one of America's most provocative young classical musicians. She has guest conducted orchestras throughout North America and Europe including the Edmonton Symphony Orchestra, Calgary Philharmonic, Thunder Bay Symphony, Hamilton Philharmonic, Greater Bridgeport Symphony Orchestra, the Staatskapelle Weimar Orchestra and the International Contemporary Ensemble. Winner of the 2006 Taki Concordia Conducting Fellowship, Hotoda received mentoring from Marin Alsop and conducted the Colorado Symphony and the Baltimore Symphony Orchestra in their 2006-2007 subscription season.
Hotoda is currently the assistant conductor of the Winnipeg Symphony Orchestra. She has previously held the position of assistant conductor at the 2005 Cabrillo Festival of Contemporary Music in California and the 2005 Hot Springs Music Festival. Other appointments include principal conductor of Chicago's new music group Noamnesia and Ensemble N_JP. She has conducted numerous touring groups including Five by Design, the Canadian Tenors, Platypus Theater Group, Dan Kamin and Jeans 'n Classics. Recently in Winnipeg, Manitoba, Hotoda conducted Guy Maddin's film Brand upon the Brain for live orchestra featuring Isabella Rosselini as narrator, with which she will be touring in Spain and Germany this fall.
In 2007, Hotoda recorded Symphony Sessions with Signpost records, a CD featuring singer Steve Bell and the Winnipeg Symphony Orchestra. This fall, she will release two recordings including Apparitions, a solo piano compilation of contemporary Asian composers; and This Will Not Be Televised, featuring members of the Winnipeg Symphony Orchestra performing music by Nicole Lizee under Hotoda's baton.
Hotoda studied with Gustav Meier at the Peabody Institute in Baltimore, Maryland. She holds a doctorate in piano performance from the University of Southern California and a bachelor of music in piano performance from the Eastman School of Music.
About the Dallas Symphony Orchestra
The Dallas Symphony Orchestra has a rich, 108-year history of artistic excellence. After an exhaustive search, the DSO named Jaap van Zweden as music director beginning in the 2008-2009 season. Eminent music directors such as Antal Dorati, Paul Kletzki, Georg Solti, Eduardo Mata and Andrew Litton laid the groundwork for important elements of today's DSO, including extensive touring and recording, special community and education concerts, and the building of the world-renowned Morton H. Meyerson Symphony Center.
As the largest performing arts organization in the southwest, financial stability is a key element of the Dallas Symphony Orchestra's success. The DSO has demonstrated five consecutive years of balanced budgets, a rise in donations to their highest level ever and a more than 70% increase over five years in an endowment that now exceeds $120 million.
Contacts:
Stacie Adams
214.871.4082
s.adams @ dalsym.com
Laura Korenman
214.871.4061
l.korenman @ dalsym.com
###