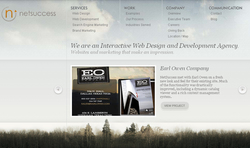 Driving large numbers of high value visitors to our client's sites has proven to be a large reason for our success
Dallas, TX (PRWEB) October 3, 2008
Dallas web design company, NetSuccess, announced the launch of its new website http://www.netsuccess.com today.
The new site showcases the company's web design and development capabilities through eighteen Internet sites created for a stable of high profile clients in and around the Dallas / Fort Worth Metroplex including: Dallas Cowboys Star Magazine, Daisy Brand, Brinker's Maggiano's Little Italy, The Kimbell Art Museum, Jani-King and others.
Established in 1995 by founder and President, Lori Barber, NetSuccess has one of the longest running track records of any Dallas web design company having survived the "Dot Bomb" bust of 2001 to solidify its reputation as a versatile, well managed firm serving clients in over nineteen different industry verticals.
"We're using our updated site to showcase new functional capabilities that make our client's sites easier to manage and more effective in the marketplace," says Ben Jordan, Interactive Director at Net Success. "For example, the new site utilizes a proprietary content management tool that allows programmers and non-programmers alike, to change content on the fly," he said.
In addition to providing links to some of the websites it has designed and developed, http://www.netsuccess.com provides users with detailed information about the company's web design, search engine optimization (SEO), pay-per-click (PPC) advertising, and brand marketing capabilities.
"Content will always be king, but proper site structure and keyword research are essential to making sure search engines can find, read, and accurately categorize a website," says Anita Pinkerton, who is in-charge of online marketing strategies for Net Success. "Driving large numbers of high value visitors to our client's sites has proven to be a large reason for our success," she said.
"Despite the downturn in the national economy, NetSuccess finds itself in growth mode," says its President. Lori Barber. "After almost fourteen years in business, we're adding clients, hiring web design staff, and expanding our reach across Texas and the region."
###