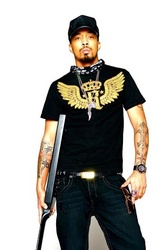 Dallas is a true innovator and a visionary
NEW YORK (PRWEB) October 16, 2008
Creative visionary, Dallas Austin, is one of the most sought-after producers in the entertainment industry. Known for his ability to move seamlessly between musical genres, his innovative style has shaped the sound of today's Pop and R&B music worldwide. Austin's signature hits can be heard on albums by Madonna, Gwen Stefani, Pink, Leona Lewis and Bjork to name a few with more than 50 hit singles debuting on Billboard's Hot 100 over the years. He was awarded a Grammy for his role shaping TLC's sound and, in recent years, has become active in the film industry, serving as Executive Producer on 2002's Drumline and co-producing 2006's ATL with Tionne "T-Boz" Watkins and Will Smith, two films loosely based on Dallas' childhood experiences growing up in the south.
8 Dazeaweakend represents Austin's first foray as a solo artist. Recorded under the moniker The Dallas Austin Experience, 8 Dazeaweakend is without equal. Eleven new songs (plus a cover of T. Rex's "Children of the Revolution") are interwoven into a short film narrating the true coming of age story of Daisy, a real-life friend of Dallas' from the Atlanta party scene. Says Austin: "8 Dazeaweakend is a reality experience based on girl I knew in Atlanta – I met her with my cousin Juan, hanging at after-parties and stuff."
The album features production by Austin as well as guest appearances by the legendary George Clinton and Big Gipp (of Goodie Mob) as well as Dallas' Rowdy Records artists Novel (Capitol), Colin Munroe (Universal Motown) and others. 8 Dazeaweakend demonstrates Austin's love for a wide range of music, and features an eclectic mix of old school funk, modern pop, dance, southern hip hop and r&b.
"Dallas is a true innovator and a visionary," said Universal Motown President Sylvia Rhone. "He has put his unique stamp on an extraordinary array of hit music over the past two decades. So it comes as no surprise that his long-overdue solo debut is a brilliant, groundbreaking project that crosses boundaries, both musical and visual, to tell a compelling real-life story. I am very happy to welcome Dallas to the Universal Motown family and to kick off our new relationship with such a fantastic album."
To celebrate the release of "Exasperated," Dallas will be active at CMJ, hosting a private screening of 8 Daze A Weakend at the Tribeca Grand on 10/21 as well as performing at The Ailey Citigroup Theatre on 10/22 and at Santo's Party House on 10/23 in association with Afropunk (http://www.afropunk.com).
To preview "Exasperated," visit http://www.myspace.com/dallasaustin or via YouTube at: http://www.youtube.com/watch?v=g5Ch13td5xI Download the track at zshare via: http://www.zshare.net/audio/20604147cada14d6/ or on iTunes (USA)