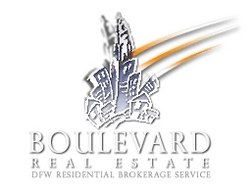 Dallas, TX (PRWEB) May 19, 2008
After months of suffering by potential home buyers, Boulevard Real Estate, a Dallas Real Estate Company, finally brings a new solution offering relief to potential real estate buyers. As their real estate company is located in Dallas, Texas, their new subprime packages cover the Dallas, Fort Worth and surrounding areas.
Now a person shopping for a home can obtain a 100% mortgage with credit scores as little as 550. In addition, their rates are fixed rates and are currently in the 5-6% range depending on their scores.
With these programs available, virtually anyone shopping for a home in or around the Dallas, Texas area is now able to beat the obstacles that were presented by real estate and mortgage companies. These Dallas real estate programs are government backed and are only available to those who can qualify. Now here are the highlights and main qualifying criteria:

Minimum credit mid score 550
Up to $271,000.00
30 Year Loan
This is a Fixed Rate Program
Rates start at 5.5%
100% Financing
No down payment
No out of pocket closing costs
Allowed one 30 day late 12 months or one 90 day late 24 months
Medical bills / medical collections don't count against the buyer.
Maximum Debt to income ratio is 43%
In addition, these programs do not limit the buyer to any listings and they cover any Dallas real estate for sale. So, whether the property is listed by a bank, investor, Realtor or by owner, this program covers it all.
"Boulevard Real Estate" will begin approving buyers starting June 1, 2008.
For additional information on this program please, contact Crissy Elizondo at 972.999.1333 or visit Boulevard Real Estate of Dallas
About Boulevard Real Estate Company:
Boulevard Real Estate is a Dallas, Texas Real Estate Company that was founded in 2003 with offices conveniently located in the North Dallas area.
Contact:
Crissy Elizondo, Director of Marketing
Boulevard Real Estate
972.999.1333
Dallas real estate
###