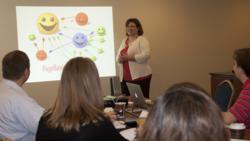 My mission is to empower regular people to take advantage of the ... digital space to tell their story to a larger audience.
Dallas, Texas (PRWEB) February 14, 2013
In the ever-evolving world of digital information, many small businesses feel trapped in the old ways of spreading the word about what they do and powerless to tap into digital methods of communication.
"The world is changing so rapidly that many small business owners feel overwhelmed by the prospect of telling their stories in the digital space," explains Beth Kahlich, founder and President of Dallas Search Engine Academy. "Just hearing the phrases 'search engine optimization' or 'social media reach' is enough to strike terror into the hearts of even the most successful business owners.
"My mission is to empower regular people to take advantage of the vast possibilities in the digital space to tell their story to a larger audience," says Kahlich. "Businesses get their best customers through word-of-mouth marketing and it's my job to help them understand that the internet and social media are simply tools to help spread the word about the good that they are doing."
Kahlich ought to know. She started the Dallas Search Engine Academy after years of helping all types of business owners communicate more effectively online. With clients ranging from restaurants and dry cleaners to transportation developers and major foundations, Kahlich has found that keeping up with ever-changing technologies and search engine algorithms requires an enormous investment of time and intellect. In her efforts to make sure her clients' websites are relevant, engaging and effective in attracting users, she often finds herself serving as a "translator" between the high-tech coders who are constantly inventing new ways to do things and the actual technology users who just want people to find out about their companies.
"It's extremely challenging to keep up with all the new developments in the digital world," Kahlich acknowledges. "The average person doesn't have the time or the technological know-how to navigate all the techie blogs to know that what they were doing last month no longer applies."
Kahlich's efforts to stay on top of digital information and marketing trends have earned her credibility not only with North Texas business owners, but also with global technology providers, like Adobe Business Catalyst, Constant Contact and HubSpot, which have tapped her to serve as a partner and local resource for people needing help with their tools.
She regularly participates in trainings and workshops all over the country, sharpening her knowledge about the latest tools and tricks of the trade. She shares that knowledge as a speaker to groups around North Texas, including the Oak Cliff and Lancaster chambers of commerce, the Home Builders Association of Greater Dallas, Dallas Association of Professional Organizers, Shop Local DFW and the Coffee House Business Series. In recent years, she also has become a social media expert, helping her clients incorporate effective social media tactics into their overall online marketing campaigns.
Now Kahlich's mission is to help others navigate the online world. Her Dallas Search Engine Academy focuses on offering understandable, affordable SEO training to local businesspeople so they don't have to fly to expensive conferences where the tech-talk may overwhelm them or hire high-priced consultants to have access to digital marketing. Professionals in a variety of industries have come to Dallas to attend the academy from as far as Houston and San Antonio.
"We're bringing the tools to people here in Texas, so they will be equipped to effectively tell their stories online in ways that will get them noticed by the search engines," says Kahlich. "Our goal is for more people to understand how to use their websites and social media channels to become their greatest word-of-mouth marketing asset."
To learn more, visit http://www.seotrainingdallas.com or call 214.550.4310. The next Academy will take place March 18-22.
Dallas Search Engine Academy is part of the Search Engine Academy (http://www.searchengineacademy.com) network of SEO trainers. Founded by John Alexander in 2002, the Search Engine Academy is a network of search engine experts committed to the ongoing education of business owners and individuals on the best practices to maximize their online visibility.
# # #