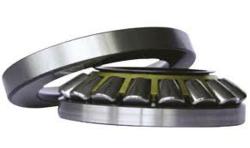 Quickly locate and order rare or obsolete bearings from most manufacturers worldwide.
Dalton, Georgia (PRWEB) March 26, 2012
Dalton Bearing Service now has the ability to quickly locate any type of replacement bearing an individual or business customer may need, even if the part is out of production or obsolete. Dalton's relationship with major bearing manufacturers provides customers with a single online source to quickly find and order OEM and replacement bearings.
"Broken down industrial machinery can result in substantial losses for a business," said the company's GM, Matt Morris. "These losses may even run as high as six or seven figures per day." Dalton's website and regional customer services representatives can quickly source and ship replacement bearings to help reduce downtime and production losses. The Service can help you locate bearings for manufacturing machinery, transportation and automotive applications, and a variety of business and consumer needs.
Dalton Bearing Service possesses a knowledgeable, dedicated, and helpful staff with the ability to locate a needle in a haystack. The company also has connections with thousands of bearing suppliers and manufacturers around the world, which gives them additional resources for finding that rare or obsolete part you need.
If customers are concerned about the potential length of their downtime, they can relax knowing that Dalton Bearing Service has the ability to locate parts the same day and provide next-day delivery. Not only does the company ship quickly, it also has worked with customers in every state in the United States and about 30 different countries. It is also willing to work with customers in any nation worldwide, provided domestic and foreign law allows it.
The company can also locate the specific brand customers require, so quality never becomes an issue. It also possesses the ability to cross-reference parts, which is when one company produces the same part as another but uses a different identification number. This provides Dalton Bearing Service with additional flexibility to locate those extra hard-to-find parts.
No matter what kind of part its customers are searching for, Dalton Bearing Service provides a dependable, time and money-saving, and competitively-priced one-stop solution for all of its customers' bearing needs.
About Dalton Bearing Service
Dalton Bearing Service has been providing bearing distribution services to Georgia businesses since 1946. The company has since expanded to serve thousands of customers worldwide. Its customers now include a number of small businesses and large and respected companies. While the company focuses on customers in need of bearings, it also serves customers with a variety of power transmission, linear technology, or general maintenance supply needs.
Dalton Bearing Service
706.226.2022
P.O. Box 1363
Dalton, GA 30722-1363
Visit http://www.daltonbearing.com or Request A Quote.