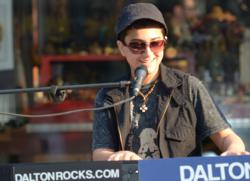 Dalton is a gifted musician!
Weymouth, MA (PRWEB) June 07, 2011
Hard Rock Cafe, House of Blues and Foxwoods Resorts Casino are usually typical venues for seasoned professionals, but not for 12 year old Dalton Letorney, a 6th grade singer, pianist, songwriter, composer, and actor from Weymouth, MA. He has performed at these high profile venues in the past year and is turning heads in the music industry with his voice and piano skills. He has won numerous talent shows and competitions, even competing with adults. He has been featured on the local news, in newspaper articles, various internet sites and radio. But, before he found his love of music, Dalton had been diagnosed with a Non-verbal Learning Disorder at the age of 5. This condition manifested as severe anxiety in all areas of his life, including social anxiety, generalized anxiety, separation anxiety and sensory integration dysfunction. He required a paraprofessional from kindergarten through 3rd grade to help him process and move through his school day. With lots of family and school support, alternative therapies, faith and courage, Dalton has completely recovered from this disorder to find his love of music and performing.
He has been playing piano for 5 years now mostly by ear and has developed perfect pitch. His first live performance was at his school talent show with his younger brother Dylan performing a Jonas Brothers song. Dalton loved performing so much that he continued and in June 2010 had his first solo performance at his 5th grade school concert. He sang and played the piano to Journey's 'Don't Stop Believin' with 300 of his classmates singing backup chorus in front of 800 people. He got his first standing ovation for this performance. Dalton's 1st solo performance June 2010.
Dalton made his acting debut in an anti-bully music video with Ahmir - the #1 R&B group on Youtube with over 44 million views. They performed a cover of Pink's song 'Perfect' and Dalton played a victim of bullying in the video. The music video raises awareness to the bullying issue and was recently praised by an international expert from Huffington Post as one of the best PSA's on bullying. "I was a victim of bullying and understand how hurtful and painful it can be. I never did anything wrong and thought it was my fault, but now, I know better. I don't want kids to feel that they have to be perfect in order to be accepted. I want kids to be themselves and to respect each other's differences. What helped me was talking to an adult and telling them what was going on. This is why I feel that we all need to take a stand against and stop bullying!", says Dalton on his official website, http://www.DaltonRocks.com, where you can also view the music video.
Dalton just released and recorded his very first original pop single, "Dance Around Me". This song features his younger brother Dylan, age 11, who raps on the track too. The brothers both wrote the lyrics and composed the music. Click to hear Dalton's new single on Reverbnation.
Dalton was also recently named an official 2011 street performer at Faneuil Hall Marketplace in Boston, MA known for their world famous entertainment. He will be performing about 100 shows throughout the summer to thousands of tourists playing classic rock, pop, and original songs.
Dalton gives back to his community by volunteering at local nursing homes where he performs for the senior residents and has quickly become a resident favorite. He also performs at various charity events, including the American Cancer Society's Relay For LIfe. He is also a straight A student who loves Math, Science, Computers and Technology. Dalton's dream is to one day be discovered and to perform at large arenas around the world to thousands of screaming fans.
###