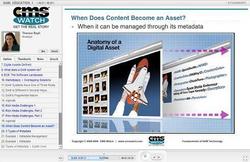 The start up of a new project is often overwhelming and too often managers jump into projects without fully understanding the challenges and technology
Bostom, MA, USA (PRWEB) December 19, 2008
Project managers, creative directors, enterprise architects, and consultants struggle to determine the optimal way to implement Digital Asset Management (DAM) technology, according to CMS Watch, an independent analyst firm. Important information must be understood prior to implementation in order to mitigate risk, including: key administrative and system management services, roles and groups and how security is managed, scalability, capacity and bandwidth challenges, the value of specific DAM standards.
"The start up of a new project is often overwhelming and too often managers jump into projects without fully understanding the challenges and technology," notes CMS Watch Principal DAM Analyst, Theresa Regli. "This increases the risk of project failure."
This conclusion stems from research conducted for CMS Watch's new online education course, "Fundamentals of Digital Asset Management". The online course, based on over a year of research into DAM technology and with organizations that have implemented DAM, helps project leaders and creative contributors alike understand the basics of Digital & Media Asset Management technology. The course also helps DAM project teams identify requirements more clearly and differentiates among various architectures and approaches.
The online course includes sessions on:

Introduction to DAM
Asset Creation, Assembly & Delivery Services
DAM Architecture & System Management Services
DAM Implementation Scenarios
DAM Vendor Landscape and Trends
"DAM project teams now have an objective source to instruct them on how DAM technology really works, and where implementations often go wrong," adds CMS Watch DAM Analyst Kas Thomas. "And, because it is an online course, participants can go at their own speed, at a time most convenient for them."
The course is available online at: http://cmswatch.com/Education/.
About CMS Watch
CMS Watch(tm) evaluates content-oriented technologies, offering head-to-head comparative reviews of leading solutions. Through highly detailed technical evaluations, CMS Watch helps sort out the complex landscape of potential solutions so that buyers can minimize the time and effort to identify technologies suited to their particular requirements. To retain its independence as a totally impartial analyst firm, CMS Watch works solely for solutions buyers and never for vendors.
###