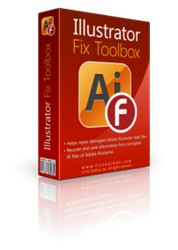 a powerful and fast damaged Illustrator file fix solution for professionals and home users.
Chicago, IL (PRWEB) April 15, 2013
Fix Toolbox, a leading supplier of powerful file repair and data recovery tools for many popular applications, announced the release of one of the most advanced damaged Illustrator file fix tools on the market. Illustrator Fix Toolbox features a clear and intuitive wizard-based interface that turns the entire data recovery process into a series of simple consecutive steps that any user can handle without any problems.
The core of this damaged Illustrator file fix solution uses a set of intelligent algorithms capable of identifying as many recoverable objects in damaged files as possible and successfully extracting them to the specified output location. The use of its own spooling mechanism considerably lowers RAM consumption during the recovery process. The process consists of 5 quick steps: selection of the damaged source AI file, file analysis, selection of the output file and location, data recovery and saving, viewing of the recovery log.
"We are extremely excited to have released one of the best solutions for quick recovery of damaged Adobe Illustrator files. Illustrator is a serious product used by millions of professionals, so knowing the price of their work, we couldn't pass up on a chance to create a tool like Illustrator Fix Toolbox," explains Boris Bobrov, Head of Development at Fix Toolbox. "I hope that the product will help many of our clients cope with the consequences of any crashes, minor and major."
The trial version of the program can be downloaded free of charge from the official website of Fix Toolbox.