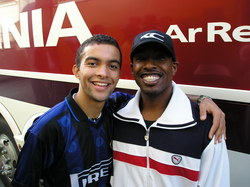 After writing my book about all these people who had overcome tremendous obstacles to achieve their life's purpose, here we had this kid from an entirely different part of the world who embodied the concept of overcoming.
Folsom, CA (PRWEB) September 26, 2010
Life on the streets of Brazil's third largest city is far from easy. Approximately 5 million people inhabit Belo Horizonte, and the impoverished masses dwell in slums that line the city's mountainside circumference. These shanty communities are called "favelas" in Portuguese. Many favela children wind up working the streets to bring home money to feed their families, and often to support their parents' addictions. Most of the children who work in the streets one day choose not to return home at all.
Sidney Pereira de Silva e Souza was one of those favela children. At only six years old he was forced to work alone in the streets to support his large family and alcoholic father. He soon fled from his abusive home to sleep in abandoned buildings, bus stops and on park benches, along with Brazil's estimated 1 to 8 million other street children.
There Sidney found an entirely new world - a world run by children and cared for by no one. This new world embraced him, incorporating him into an orchestrated cycle that churns out hardened criminals, junkies and corpses.
By the time Sidney was 11 years old, he had been in and out of juvenile institutions. He was a drug addict, thief and gang member. He had escaped gang warfare, corrupt police and murderous vigilante squads. He had learned every survival tactic the streets had to offer -- survival tactics that were slowly killing him.
Then one day he heard about a group home run by international Christian organization, Youth With a Mission (YWAM). Known as "The Rescue House," it was a two-week program for detoxing street kids who wanted to leave the streets. If they made it through two weeks without glue, paint thinner, alcohol or other drugs, and if they demonstrated at least a semblance of respect for rules and structure, they would then move into a more long term solution, "The Restoration House."
To most street kids, it was simply a safe place they could go to every now and then for food, a shower and clean clothes. The majority of them never intended to leave the false freedom the streets provided them. Fortunately, the leader of the Rescue House (a former street kid himself) recognized Sidney's desire to escape street life and offered him a room.
It was a tough two weeks, but Sidney made it to the Restoration House, where he was introduced to missionaries from all over the world. It was there that he met the soon-to-be wife of pro athlete Damon J. Smith, who was visiting the house on a short term mission trip. At the time, Sidney was seventeen years old and had already traveled to the United States, Papua New Guinea and Singapore with missionaries he met at the house. He spoke fluent English and earned grades at the top of his high school class. She was so impressed by the young man's ambition that she left him a copy of Smith's sports motivational book, Don't Stop the Swagger: Preparing the Mind, Body and Soul for Peak Performance. Sidney finished the book, contacted Smith via email and the two forged an immediate friendship.
"We connected right off the bat," Smith said about his first contact from Sidney. "After writing my book about all these people who had overcome tremendous obstacles to achieve their life's purpose, here we had this kid from an entirely different part of the world who embodied the concept of overcoming. He was like a walking example of perseverance. It was a natural progression to go down there and see what we could do to help push him forward."
Damon was no stranger to helping others reach their goals in life. After transitioning out of pro football and into corporate America, Damon began mentoring high school athletes on the road to college scholarships. He often spoke to youth groups, college organizations and business groups, expressing the motivational message of endurance and work ethic found in his book.
Over the next year, Smith and his fiance returned to Brazil twice to shoot a documentary about Sidney and other street children at the YWAM house. They kept in close contact, and Sidney expressed his desire to write his life story to inspire street children around the world and educate those who don't understand the cycle of poverty in Latin America.
About a year after they released the documentary, Smith received an email from the young man with a large attachment. It was a manuscript of his life story, passionately written in English that would rival most American high school students. After a year of editing, drafting, re-drafting, and re-editing, Sidney's story emerged in the form of a complete memoir, Rescued to Tell: Diary of a Street Kid.
As a young adult, Sidney travels the world with the mission team that brought Damon and his fiance to Belo Horizonte. Based in Campinas, Brazil, the team makes regular trips throughout South America, Africa, Europe and the United States, ministering to the lost and destitute, training church outreach teams, and teaching new recruits how to live life daily with a higher purpose through serving others.
Now that the book is out, Damon and Sidney take turns inspiring each other. Sidney's dream was to publish his story and travel the world. And Damon had a dream of his own involving a lifelong passion for a sport he never had the chance to pursue in his youth.
When he stopped playing ball, Damon dreamed of becoming the first person ever to cross over from professional football to professional motocross. It was a tough transition, but with trademark diligence he proved to people of all ages and backgrounds that they can achieve anything they put their minds to. Months after releasing "Rescued to Tell," Damon earned his professional motocross license and lined up to ride among the world's top racers.
Racing alongside factory riders with corporate sponsors emblazoned on their bikes and clothing, Damon humbly pursued his goal with a unique sponsorship of his own. On either side of his bike reads in bold letters: "Don't Stop the Swagger" and on the other, "Rescued to Tell."
Damon J. Smith Enterprises houses the media and athletic achievements of Damon J. Smith: Inspiring Minds Publications, The Damon J. Smith Radio Show, and The MX Show. He currently resides in Folsom, California, and is available for speaking engagements, interviews, and athletic consulting.
Sidney Pereira de Silva e Souza is currently touring the United States and will be available for interviews and speaking engagements in the U.S. until December 2010.
To schedule an interview with either Damon or Sidney, please contact Taryn Smith.
# # #