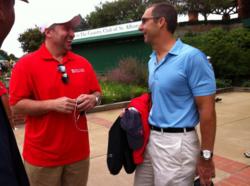 A titan in the industry, Dan's top four contracts (Albert Pujols – two contracts, Michael Young, and Jimmy Rollins) total more than $491 million in total
San Diego, CA (PRWEB) December 27, 2012
Sports agents continue to make headlines with huge contracts for high profile players. In the high stakes world of professional sports, the agents behind each individual team member can be considered the real playmakers. To recognize the top players in the sports agent world, one must look at two main factors: the total dollar amount of contracts signed for an agent's roster of clients, and a less-tangible metric – the impact that the agent has had on the world of sports overall.
The ranking of the top sports agents can be narrowed down to six names, Dan Lozano, Fernando Cuza, Rob Pelinka, Bill Duffy, Tom, Condon, and Joel Segal. Representing baseball, basketball, and football clients, these giants of the sports agent world have changed the way their games are played.
Topping the list is Dan Lozano of MVP Sports Group. A titan in the industry, Dan's top four contracts (Albert Pujols – two contracts, Michael Young, and Jimmy Rollins) total more than $491 million in total. Lozano is generally considered the most prolific baseball-only agent and has refined the boundaries of a baseball contract – both in terms of salary and scope. His contracts for Albert Pujols made him elite.
Fernando Cuza, of SFX Baseball, is a lesser-known agent, though one who more than compensates for a slightly smaller salary portfolio with a tremendously impactful stance in the baseball world. Growing up in Miami and spending significant time in the "baseball player factory" of the Dominican Republic has allowed Cuza to secure numerous high profile contracts for a variety of Latin and Latin-American players. He has become a trusted name in the industry and amassed a $388 million among his top four contracts.
Rob Pelinka comes in third on our list with $297 million in contracts signed among the top four players on his client list. His most famous client, Kobe Bryant of the LA Lakers, contributes more than $83 million to this amount. What makes Pelinka so effective, though, is the fact that he was a star basketball player himself in the early 90's, attained a business degree, then a law degree – a powerful formula for knowing the industry from both sides of the negotiating table.
Bill Duffy, of BDA Sports Management, followed a similar path as Rob Pelinka – emerge as an effective player and leverage that experience to win the hearts and minds of the new crop of NBA recruits as an agent. Duffy has a salary portfolio of more than $274 million among his top four.
Tom Condon was a big time player in the NFL for 10 years, he is the president of the NFL Players Association, and he has a law degree. Sounds like the perfect recipe to deliver on our ranking of #1 football agent in terms of industry impact and salaries negotiated. Condon's top four clients, including the always-newsworthy Manning brothers, command more than $326 million. Condon's impact has been felt across the NFL as player, agent, and president of the NFL.
Joel Segal, of BEST Football, rounds out our top six most impactful sports agents with a total of $287 million in contracts among his top four. His law degree has been one of the most important pieces of his power ranking, though, as it has enabled him to negotiate the saving of Michael Vick's contract during his conviction and incarceration for dogfighting.
Behind Albert Pujols hitting three home runs in a game or Kobe Bryant leading the Lakers to another championship season, are the real playmakers – the sports agents.