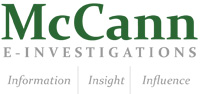 Modern investigations are as much digital investigations now as they are old school surveillance, undercover work and background checks. We call these all-encompassing investigations – "hybrid investigations
Houston, TX (PRWEB) April 13, 2012
McCann E-Investigations (McCann EI), a Texas-based private investigations and computer forensics firm is pleased to announce that Managing Partner, Dan Weiss was recently featured in Houston Magazine. The article titled Risky Business focuses on Mr. Weiss' private investigations background and on McCann Investigations, where Mr. Weiss serves as Licensed Private Investigator and Managing Partner. Mr. Weiss brings extensive experience as a security professional in the area of loss prevention, electronic security system design, and surveillance. As an industry entrepreneur, Mr. Weiss brings his wealth of knowledge in business with extensive experience in due diligence, private equity and venture capital, and financial controls. Mr. Weiss' background supports the unique balance between business and former law enforcement that is a unique hallmark of McCann.
"As a Houston-based Private Investigator, being featured in Houston Magazine was a really nice surprise." said Dan Weiss, Managing Partner at McCann Investigations. "Modern investigations are as much digital investigations now as they are old school surveillance, undercover work and background checks. We call these all-encompassing investigations – "hybrid investigations".
continued Weiss.
About McCann EI:
http://www.einvestigations.com
Twitter: @McCannEI or https://twitter.com/#!/McCannEI
Facebook: https://www.facebook.com/pages/McCann-Investigations/203760582969139
Call us toll-free at 800-713-7670
About McCann EI:
McCann EI provides the complete case solution with Hybrid Investigations. The truth lies in many forms – digital and physical. McCann Investigators follow the trail and decipher the information regardless if the evidence is in digital form, such as electronically stored information found on computers, mobile phones, or other electronic devices or if the investigation requires traditional PI tools such as surveillance, undercover work or detailed record searches. McCann Investigators final product to you is a clearer understanding of what has happened or what is occurring. Clarity and the discovery of truth allows our clients to respond and recover.
Our investigators have the experience to provide expert witness computer forensic testimony in courts across Texas. McCann EI services Companies, Law Firms, and Individuals Statewide. Call us toll-free at 800-713-7670 or our Local Offices Austin Computer Forensics: 512-377-6142 Houston Computer Forensics: 832-628-4904 Dallas Computer Forensics: 214-329-9059 Lubbock Computer Forensics: 806-589-0320 Lufkin Computer Forensics: 936-585-4070 Brownsville Computer Forensics: 956-465-0849