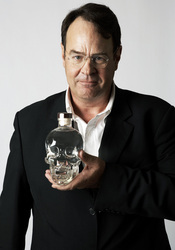 Wayne, NJ (PRWEB) April 7, 2009
Renowned movie star and celebrity Dan Aykroyd is making a rare New Jersey appearance when he brings his new Crystal Head Vodka to Gary's Wine & Marketplace of Wayne, NJ on April 11th from 10:00am - 1:00pm EST.
Mr. Aykroyd, whose acting and comedic credits include Saturday Night Live, Trading Places, Ghostbusters and I Now Pronounce You Chuck & Larry, will be at Gary's Wine & Marketplace of Wayne to sign bottles of his new vodka Crystal Head Vodka.
This 'Pure Spirit' vodka is a quadruple-distilled vodka made with pure Newfoundland water and triple filtered through Herkimer diamonds. The stunning crystal skull bottle was designed by John Alexander and made by Bruni Glass in Milano Italy.
As part of this special occasion, we will be tasting Dan Aykroyd wines from his Sonoma County Discovery Wine Series! Regionally inspired and modestly priced wine from Dan Aykroyd's travels.
The event will be streamed live on April 11th from 9:00am - 1:00pm EST on Ustream.TV, allowing viewers from around the world to interact with Mr. Aykroyd and each other through live chat. To view the stream, visit Gary's Wine on Ustream.tv. Participants will also have an opportunity to purchase an autographed bottle of Crystal Head Vodka and pick it up locally or order one of his wines Gary's Wine NJ Wine Store and have the signed wine bottles mailed to you.
This will be an event you don't want to miss, in person or virtually!
About Crystal Head Vodka
Thousands of years ago, thirteen crystal heads were scattered across the earth - and they are greater and more powerful than anything we have the ability to manufacture today. Their workmanship is perfect: they contain no tool marks and have been cut against the natural axis of the crystal, defying the laws of physics. Some say they are artifacts from the lost civilization of Atlantis, some say they date back to the Mayans, still others say they were created by a higher intelligence.
Brought together, the Crystal Heads are said to contain vast knowledge and enlightenment capable of unlocking our most enigmatic ancient mysteries. Alone, each is believed to house radiant psychic energy, which has magical powers and healing properties.
About Dan Aykroyd Sonoma County Discovery Wines
Dan Aykroyd's affinity for travel has taken him around the globe. Whether visiting Asia, Europe, Africa, Australia or the Americas, Dan makes it a point to visit local wineries, talk to local winemakers and sample their wines.
In his travels, Dan has uncovered some of the finest tasting wines each region has to offer. Inspired by the culture, passion and dedication for producing great wines, Dan has teamed up with some of his favorite winemakers to create a series of regionally inspired and modestly priced wines that represent the best of each terroir.
After the great success of Dan's first batch of Discovery Series wines, it was only natural for his wine career to mirror his film career by moving from Canadian soil onto the Californian terroir.
For this series, Dan has called upon the expertise of De Loach Vineyards and their proprietor Jean-Charles Boisset. The Boisset estates have been producing wine for centuries. Together they have created wine that perfectly combines the richness of Sonoma County with the traditions of Burgundy and Bordeaux to create a premium experience at a very attainable price.
About Dan Aykroyd
Dan Aykroyd is an Academy Award-nominated and Emmy Award-winning comedian, actor, screenwriter, musician, winemaker and ufologist. He was an original cast member of Saturday Night Live, an originator of The Blues Brothers (with John Belushi) and Ghostbusters and has had a long career as a film actor and screenwriter.
About Gary's Wine & Marketplace
Gary's Wine & Marketplace is an established leader in the fine wine & spirits business since 1987, with retail locations in Madison, Bernardsville and Wayne, NJ and an Online Wine, Spirits & Gifts Store at Gary's Wine NJ Wine Store. Gary's Wine, a top NJ wine store, has an enormous portfolio of fine and rare wines to fit every budget as well as gourmet foods, gifts, craft beer and spirits.
About Ustream.TV
Ustream.TV is the live interactive video broadcast platform that enables anyone with a camera and an Internet connection to quickly and easily broadcast to a global audience of unlimited size. In less than two minutes, anyone can become a broadcaster by creating their own channel on Ustream or by broadcasting through their own site, empowering them to engage with their audience and further build their brand. Ustream's Shiba Inu Puppy Cam, seen by more than 10 million viewers worldwide, was listed as one of 2008's top 10 Web videos (Source: AP). Ustream powered more than 3.8 million streams during the 2009 Presidential Inauguration.
###