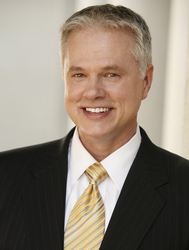 People need to hear more about the benefits that long-term structured settlement payments provide to so many individuals.
Washington, DC (PRWEB) July 29, 2010
Dan Finn, a Newport Beach (CA) structured settlement expert, will be the next president of the National Structured Settlements Trade Association, NSSTA announced today. Elected unanimously by NSSTA's Board of Directors, Finn's one-year term will begin in May 2011.
"For 25 years, structured settlements have made financial security and tax-free income possible for those who need it most," said Finn. "It's an honor to be asked to lead NSSTA into its next quarter century of advocacy. I ran for the presidency to help ensure we keep getting our message out: Structured Settlements Help People!"
While NSSTA members have improved the lives of tens of thousands of injured and disabled accident survivors and their families, Finn believes the structured settlement industry can do more.  "Our organization of dedicated professionals has an amazing story to tell. Judges, mediators and the general public need to hear more about the benefits that long-term structured settlement payments provide to so many people."
"Our task is to make sure we are the most effective advocate possible about structured settlements' financial strength and peace-of-mind, whether that advocacy is in the media, in courtrooms or on Capitol Hill."
Finn is the owner of California-based Finn Financial Group. Elected to NSSTA's Board of Directors in 2009, he is also a member of the Chartered Property Casualty Underwriters (CPCU) Society, serving on its Claims, Reinsurance and Risk Management Committees.
An Affiliate member of the Orange County Trial Lawyers Association, he conducts educational seminars approved by the State Bar of California for Minimum Continuing Legal Education (MCLE) Credit.
The former insurance claims trainer, public school teacher and basketball coach graduated from The Ohio State University with a Bachelor of Science in Education.  He also completed the Certified Structured Settlement Consultant program, a law-business executive education program held at the University of Notre Dame's Mendoza College of Business and sponsored by the NSSTA.
For more information about Finn Financial Group, visit http://www.FinnFinancialGroup.com.
About structured settlements and the NSSTA:
Recognized and encouraged by the federal tax code since 1983, structured settlements provide strong financial security to victims of physical injuries and their families. Using a tailored stream of payments, a structured settlement provides a long-term payment stream that is completely exempt from state and federal income taxes. A structured settlement's future payment stream is funded through a highly secure life insurance annuity.
The National Structured Settlements Trade Association (NSSTA) represents nearly 1,200 licensed consultant, brokers, insurance companies, and other professionals involved in establishing and administering structured settlements.
###