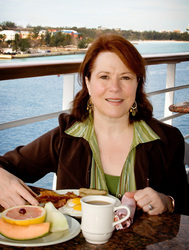 Dana Carpender is a bona fide nutritional rock star and the reigning 'Queen of Low-Carb Cooking,' which makes her the perfect person to lead the CarbSmart magazine editorial team.
Sparks, NV (PRWEB) June 18, 2010
CarbSmart, Inc., one of America's largest and most popular low-carb specialty merchants and information sites, announced today that best-selling author and columnist Dana Carpender has been named Editor of CarbSmart Magazine. Carpender will be responsible for the day-to-day management and direction of the online magazine. She will report directly to President and Founder Andrew DiMino.
Carpender, a columnist and author of 12 books, including How I Gave Up My Low Fat Diet and Lost 40 Pounds, has been writing for CarbSmart Magazine since 2009.
"Dana has been a personal friend for more than 10 years and I've been proud to sell her books for all this time," said DiMino. "I'm going to let her take the reins of the online magazine, so she can inject her style and unique view into it."
CarbSmart magazine has amassed more than 500 articles during its 10 years of operation. The articles have covered low-carb success stories, inspirational stories, and information about how to live a better life through low-carb dieting.
Carpender is well known in the low-carb community. After she self published her first book in 1999, she started an e-zine called Lowcarbezine! (holdthetoast.com), which quickly attracted more than 20,000 subscribers. Her relationship with CarbSmart.com started shortly after that. She began by carrying ads for the online store on her website and CarbSmart.com sold her book by the hundreds.
"When I started online, book publishing was the big time," says Carpender who, in 2001, was approached by Fair Winds Press of Gloucester, Massachusetts, for whom she has written seven cookbooks, including the best-selling 500 Low-Carb Recipes and 15 Minute Low-Carb Recipes. "Now the Internet is the big time. I'm honored to be working with CarbSmart and Andrew to take the magazine to the next level."
In her new role, Carpender plans to work closely with the magazine's current writers. She also plans to add more writers whose work will complement the magazine's focus and will appeal to its readers.
Some of CarbSmart Magazine's current writers include Jimmy Moore, Amy Dungan, and Amber Allen-Sauer. Moore, a long-time contributor to CarbSmart Magazine, is the very popular author of the self-published book 21 Life Lessons From Livin' La Vida Low-Carb and the top-rated, low-carb blog (livinlavidalowcarb.com).
Moore was eloquent in his praise of Carpender, saying, "Dana Carpender is a bona fide nutritional rock star and the reigning 'Queen of Low-Carb Cooking,' which makes her the perfect person to lead the CarbSmart Magazine editorial team."
Dungan writes Low-Carb Reality, a column that focuses on low-carbohydrate strategies for personal success.
Allen-Sauer, the newest member of the team and author of the popular Belly Fat Cure Success with Amber writes about success strategies for those dieters using the Belly Fat Cure by Jorge Cruise.
"CarbSmart has been in business for more than a decade, providing quality, low-carb products and information," says Moore. "That's almost as long as Dana has been cooking mouthwatering recipes that slash carbohydrates and are tasty to boot! Now these two powerhouses are joining forces to create the ultimate destination for people who are livin' la vida low-carb. They're going to propel low-carb living to the next level!"
When contacted at her home about her promotion, Carpender said "I know Andrew has big plans for the future of CarbSmart Magazine, and I'm looking forward to being a part of them."
About Dana Carpender
Carpender's cookbooks are the result of her realization that the key to overall good health is the answer to the age-old question, "What's for dinner?" In addition to her own books, Carpender has co-authored two books with Dr. Rob Thompson for McGraw-Hill, and for several years she wrote a nationally syndicated column, Low-Carb for Life, for United Media. She has appeared on several television shows, including the "Today" show and "Fox and Friends". Carpender became a featured staff writer for CarbSmart in May 2009. She blogs regularly at HoldTheToast.com. Carpender lives in Bloomington, Indiana, with her husband and a menagerie of pets, all of whom are well and healthily fed.
About CarbSmart and Smart Living Stores
CarbSmart.com is one of the Smart Living Stores group of web sites including:
HeavenlyDietStore.com (all diets including Bariatric and low fat)
DiabeticDesign.com (low-carb dieting targeted to diabetics)
GlutenSmart.com (gluten-free foods for celiacs and those who are gluten-intolerant)
BabyontheBrain.com (cute & funny baby items)
###