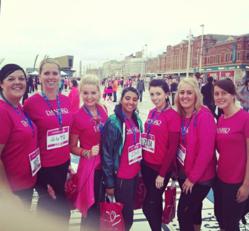 (PRWEB UK) 18 July 2012
Race for Life 2012
Danbro, the specialist accountancy firm for contract, freelance and temporary workers are delighted to have been involved in this year's Race for Life.
The Danbro team dressed head to toe in pink on Blackpool promenade on 4th July 2012 to run, walk or jog the 5K event. The 14 ladies ran to raise money in memory of close family and friends or in celebration for those who have overcome the illness managing to raise a massive £800 for Cancer Research UK.
This year 'Race for Life' held over 240 events around the country to raise money for Cancer Research UK. The event has been running since 1994 and is now the UKs biggest female only fund raiser.
Despite the bad weather, 14 of the Danbro ladies swapped their suits for shorts and all managed to cross the finish line.
Fiona Hally, part of team Danbro said: 'It was great to see so many women of different ages supporting each other and raising money for such an important cause'
Operation Orphan
Operation Orphan is a charity designed to create brighter futures for orphans and vulnerable children below the age of 18.
Danbro are hosting a summer charity ball to raise money and awareness for this very worthwhile cause. The event is being held at Barton Grange Hotel on Saturday 18th May 2013. It promises to be a fantastic event and they hope it will be a very successful night.
If you require any further information, would like to attend the event or cannot attend but would like to offer your support, please contact Fiona Hally on 01253 600140.
About Danbro
Danbro are the UK's leading firm of contractor accountants offering a PAYE umbrella service as well as limited company accounting services. The aim being to maximise the net take home pay of contract, freelance and temporary workers.
The firm were crowned winners of 'Business of the Year' & 'Employer of the Year' at the 2011 BIBA awards and were also nominated finalists at the British Accountancy Awards for North West's Independent firm of the year 2011.
For more information:
Call: 0800 731 3178
Email: enquiries(at)danbro(dot)co(dot)uk