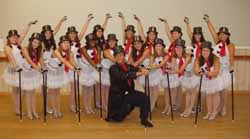 This two-day production celebrates 38 years of West Coast Dancers that showcase the stars of tomorrow, singing and dancing to our favorite sounds from the past to the present
Alameda, CA (Vocus/PRWEB) June 15, 2011
West Coast Dance Theatre presents the 38th annual musical song and dance production. This year they will be featuring "Dance to the Music," consisting of a cavalcade of fluorescent colors, pop tunes, and funky, fancy footwork.
The show begins at 7:30 p.m. on the evening of Friday, June 24. In addition to "Dance to the Music," there will be a one act production of "West Coast Rocks in Toyland," which features adorable tiny tots and talented adult performers.
The next evening, Saturday, June 25, 2011 at 7:30 p.m., the international West Coast Performers will perform in a one act high-energy musical song and dance production called "Let's Rock On."
The shows will be performed at the historical Kofman Stage at 2200 Central Avenue in Alameda.
"This two-day production celebrates 38 years of West Coast Dancers that showcase the stars of tomorrow, singing and dancing to our favorite sounds from the past to the present," said Marnell Xavier of West Coast Dance Theatre. "It is a night of fun and entertainment that will leave you tapping your toes and humming the songs."
For more information about West Coast Dance Theatre in Alameda, call (510) 978-4182 or visit them on the web at http://www.danceclassesalameda.com. You may also visit their studio at 1701 Lincoln Avenue, at the corner of Lincoln and Grand Street, in Alameda.
About West Coast Dance Theatre
Now in its 38th season, West Coast Dance Theatre is an Alameda yoga and dance studio that specializes in jazz, tap, ballet, dance classes, yoga classes and hip-hop dance lessons. West Coast Dance Theatre also offers adult tap, jazz, hip-hop dance lessons and offers summer camp.
Artistic director Marnell Xavier has been performing in Alameda since the age of four and has donated her talent and services to many local community events all over the world.
###