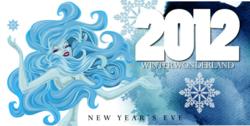 San Francisco, CA (PRWEB) December 21, 2011
San Francisco night club, The End Up is inviting patrons to join them for the Stoli New Year's Eve Winter Wonderland celebration with 36 hours of nonstop music and five incredible parties starting Saturday at 9 p.m. when the doors open, all the way through until 9 a.m. Monday morning.
A lineup of awesome special guests to entertain and welcome in 2012 include co-host and special performance by Jai Rodriquez of Queer Eye for the Straight Guy.
Patrons will enjoy special live performances by Electronica's hot new Diva, 'State of Amazing' Liz Primo; and, Cassandra Cass opening the show with Trandu!
Entertaining Djs include Resident Cuervo, Master of Afterhours & Legendary Dj/Producer David Harness, Ben Seagren & Dean Samaras, and Sunrise Set with Taj.
Open bar and Hors D'oeuvres served with complimentary Redbull, Midnight Champagne Toast, and Avian Tequila Shots for a VIP entry price of $30 until midnight. After midnight, VIP entry is $40. Open Stoli Bar until 11 p.m. Drawings held throughout the party for Stoli bottle service. Hosted by Patrick Gallineaux.
The End Up, a SOMA dance club is located at 401 Sixth Street at Harrison in San Francisco. For more information, check out their website at theEndUp.com. They are open Thursday from 10 p.m. until 4 a.m.; Friday from 11 p.m. until 9 a.m.; and Saturday at 10 p.m. until Monday at 4 a.m. every weekend.
About The End Up
The End Up is the ultimate San Francisco bar and Night Club renowned for its live music, drink specials and good vibes that don't stop until the sun comes up. Conveniently located in SOMA, San Francisco, The End Up offers a high energy environment where all kinds of San Franciscans can kick back in comfort and dance the night away. Make this weekend one you'll remember, join us at The End Up!
###