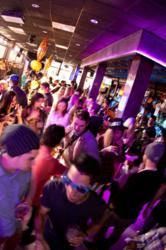 Noble and Cool SF are proud to announce the Sunday Funday Brunch Party
San Francisco, CA (PRWEB) January 26, 2012
San Francisco's dance club, Noble SF is hosting a new weekly event, happening every Sunday starting on Feb. 5. The "3B :: Booze : Beats : Brunch" is a Sunday Funday Brunch Party served from 10:00 a.m. until 2:00 p.m., with live DJ performances and a daytime party and club atmosphere until 6:00 p.m.
"Noble and Cool SF are proud to announce the Sunday Funday Brunch Party. You won't know what you'll be missing until everyone else is talking about 'how you should've been there," Daniel Baron of Noble SF said. "'Booze : Beats : Brunch'" will please the appetite and knock the sober out of you in true San Francisco style."
With brunch parties the hot new trend in daytime nightlife club events in San Francisco, Noble SF is excited to offer the events to its patrons. During its brunches, Noble SF will feature a bottle service of drinks, including bottomless mimosas, loaded bloody Marys and magnum champagne packages starting at $195. Live performances and VIP appearances will keep the dance scene active, despite the early hour.
These events are happening at different clubs located in San Diego, Los Angeles, Miami and New York. The brunches keep parties going on through Sunday but still stay classy, keeping partygoers right on track.
For more information about "3B :: Booze: Beats : Brunch," view it on the web at http://www.noblesf.com/calendar/event/3b-booze-beats-brunch.
For more information about any of Noble SF's products or services, call 415-529-5416, view the music venue on the web at http://www.noblesf.com or visit 600 Polk St. in San Francisco.
About Noble SF
Noble SF is one of San Francisco's famous club scenes. The dance club offers the best party scenes from daytime to nighttime and features a variety of drinks, house music and a lineup of the best DJ's from all over the world.
###