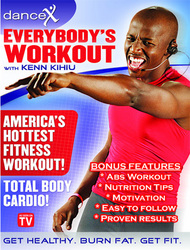 DanceX Total Body Cardio Workout
Washington, DC (PRWEB) August 15, 2007
Group Fitness USA announces the launch of "DanceX Total Body Cardio Workout," a new dance exercise DVD that everyone can enjoy. Unlike most dance exercise videos which are marketed and created for the younger, hip hop generation, DanceX is a fun, new dance exercise DVD that caters to all ages and doesn't require years of dance training. DanceX is for anyone who wants a fun dance exercise workout without complicated, confusing choreography.
The DanceX fitness workout is the creation of Washington, D.C.-based fitness expert Kenn Kihiu. His new "DanceX Total Body Cardio Workout" DVD features engaging music from around the world (Disco, Latin, 50's, Bhangra, Africa, Brazilian Samba, Irish Dance, Classical and Soul) and has dance moves everyone will enjoy, such as the John Travolta Point, Disco Rolls, Hug Me/Hold Me, Irish Kicks, the Twist and many others.
According to the charming and motivating Kenn Kihiu, "The only requirement needed is a heartbeat!" Kenn is well known for his high energy, sense of humor and passion for health and says that DanceX is for everyone including those with two left feet. "DanceX is for the ordinary person who is looking to get in shape, feel younger and have fun."
"It's such a great way to start the day," says DanceXer Marie Scott. During the DVD's easy-to-follow dance exercise workout, Kenn calls out the moves in advance so there's no memorization involved. The workout video is low impact, designed to improve aerobic capacity, muscle endurance and strengthen the core, while burning serious calories. Kenn is coaching and motivating viewers every step of the way.
Workout enthusiast Rhonda Floyd says, "It's perfect for anyone who loves to dance. The DVD has awesome music and the workout is easy to follow and fun. Kenn is inspiring!"
DanceX is perfect for all ages looking for a fun dance exercise workout without tripping over the carpet. DanceX is a party in a box!
The DanceX DVD is available at http://www.danceXfitness.com
Contact:
Group Fitness USA LLC
301-960-4968
http://www.danceXfitness.com
###